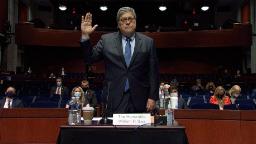 In a hearing before the House Judiciary Committee, Texas Democratic Rep. Sheila Jackson Lee asked Attorney General William Barr if he knew about "the talk" between Black parents and their sons, referring to the discussion on how to behave in police confrontations.
"I think I do," Barr said. 
"I don't know if you do," Jackson Lee responded. 
The congresswoman asked Barr if the Department of Justice is committed to ending systemic racism and racism in law enforcement across the US.
"I don't agree there's systemic racism in the police department, generally in this country," Barr said. 
Jackson Lee went on to question why the DOJ has not implemented pattern-or-practice investigations to address violence in law enforcement. "Why has your department only pursued one pattern-or-practice investigation since President Trump took office that could stop systemic racism?" she asked. 
"The response to this is, in fact, training of police, and I think the police believe that that's a response," Barr said. 
Jackson Lee alleged that Barr was more focused on allies of Trump rather than addressing these cases. 
"Your focus was more to let out friends like Roger Stone and Paul Manafort, while Tamir Rice, whose case has not been taken up, was playing with a toy gun, was killed by police at the age of 12; Breonna Taylor was sleeping in her apartment when she was killed by police at age 26; and Rayshard Brooks, 27, was killed just for sleeping in his car in a Wendy's parking lot; and George Floyd, from Houston, Texas, known as 'a humble man,' was murdered in the streets of Minneapolis, crying 'I can't breathe,'" she said. 
Watch more: