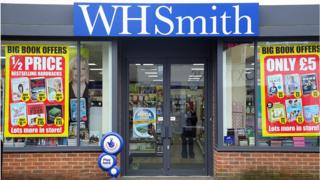 WH Smith is considering cutting 1,500 jobs – 11% of its workforce – after lockdown caused sales to plummet.
A trading update said it expected to make losses of between £70-75m.
The company said it had been a very difficult decision. It said it was committed to supporting colleagues throughout the process and ensuring it was conducted fairly.
The newsagent is the latest High Street name to consider radical action amid the chaos caused by the coronavirus.
The company, which has 612 High Street shops and employs more than 14,000, saw revenue at its worst-hit divisions, those at airports and rail stations, fall by 92% in the first month of lockdown.
Its best performing division, the High Street, was still 25% down on last year in July after lockdown eased.
The announcement comes after William Hill said 119 of its High Street betting shops would not re-open after the shutdown forced by the coronavirus outbreak.