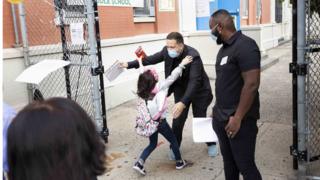 The US added fewer jobs than expected in September in a sign that America's rebound from the economic collapse triggered by the coronavirus pandemic is slowing.
Employers added 661,000 jobs against the more than 800,000 expected.
The jobless rate fell to 7.9%, dropping for a fifth month, but the minority workers hit hardest saw little change.
The gains mean the US has recovered more than half the jobs lost in March and April amid widespread lockdowns.
Restaurants and retailers added positions, but public payrolls, which had seen a boost in August from temporary hiring for the US census, dropped, particularly in education.