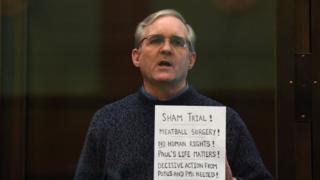 Former US marine Paul Whelan will not appeal against his 16-year jail sentence for spying in Russia, his lawyer says.
Olga Karlova told the BBC he thought doing so would be "pointless" and would rather focus his hope on a possible but unconfirmed prisoner swap with the US.
Whelan, 50, was arrested in Moscow in 2018 with a USB drive which security officers say contained state secrets.
He insists he was set up.
On 15 June, a Moscow City Court found him guilty of receiving classified information.
His legal team said at the time that he would appeal – a process that typically takes one to three months.
However on Tuesday, Ms Karlova said she and her colleague had visited Whelan at Lefortovo prison earlier in the day, and he signed a paper saying he did not want to appeal when his sentence comes into effect on 26 June.
"He decided not to waste time, he doesn't think it will achieve anything. It's pointless," Ms Karlova said. "He said that he'd been thinking about it and, as there are some talks about his return home, he doesn't want to lose a minute."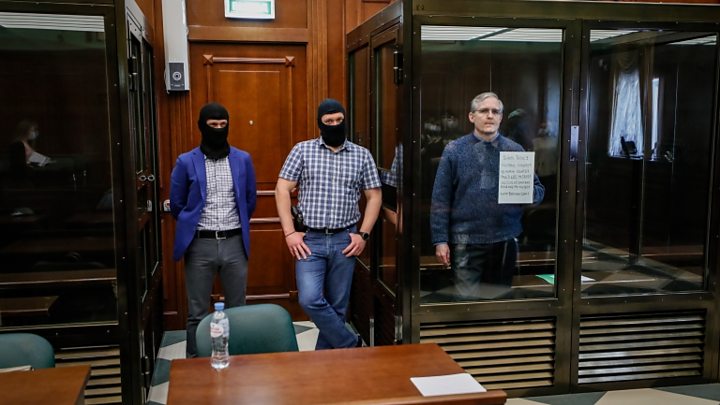 She was referring to recent reports that US and Russian officials may negotiate a prisoner exchange, which would bring about Whelan's release.
Russia has previously discounted the prospect of a swap with high-profile Russians in US custody, insisting that Whelan is not a "political prisoner".
Spokesman Dmitry Peskov said earlier this month: "No, it is not possible. He was sentenced by a court decision, and the court decision says it all."
Whelan called the trial a "sham", saying that without an interpreter, he could not even understand the proceedings.
The US said it was "outraged" by the sentence and US Secretary of State Mike Pompeo called for his release.
"We have information from various places [that such talks are happening] but I can't tell you where from," lawyer Olga Karlova said, referring to the rumoured prisoner swap. "The information is reliable."
The US ambassador has previously told the BBC that "we do not trade our citizens" and called for "justice" for Whelan. But Russian officials have been dropping heavy hints recently about possible candidates for exchange, mentioning two high-profile Russians being held in US prisons.
Olga Karlova, who is a state-appointed lawyer and is possibly seeking to accelerate that process, said that "a lot depends on how quickly the US embassy acts". She added that Whelan had asked her to let the diplomats know they should be "as active as possible, because he wants to get home as soon as possible".
Whelan is currently being held at the jail in Lefortovo, run by the Federal Security Service (FSB), although once his sentence comes into force he should be transferred to a high-security prison. This may be delayed if negotiations really are under way.
Who is Paul Whelan?
Paul Whelan is a citizen of four countries – the US, Canada, the UK and the Irish Republic.
From Novi, Michigan, he was born in Canada to British parents and moved to the US as a child.
Military records show he joined the US Marine Reserves in 1994, about six years after he had reportedly begun work as a police officer in Michigan.
He served two tours in Iraq, in 2004 and then 2006, before becoming a security executive. It was while serving in the marines that he made his first trip to Russia, and went on to visit the country many times.
Paul Whelan was arrested in his hotel room in central Moscow in December 2018.
He says he was getting ready for a wedding when an old friend turned up unexpectedly and gave him a flash drive containing what Whelan's lawyer says his client thought were holiday photographs.
Moments later, security officers burst in and arrested him for receiving state secrets.