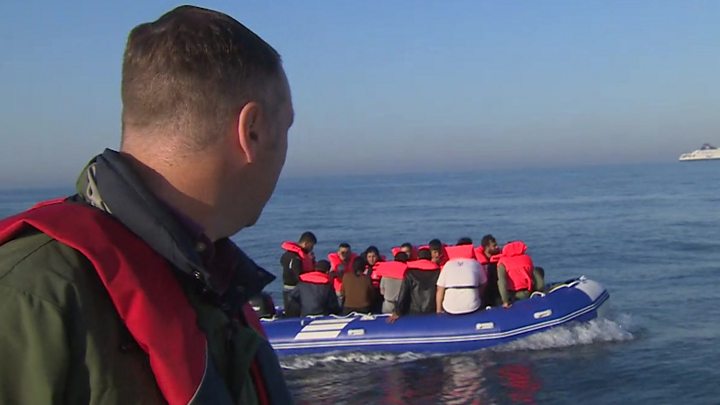 The UK will press French authorities to crack down on migrants attempting to cross the Channel in small boats, ministers have pledged.
A record number of unaccompanied children arrived in the UK on Friday.
Schools Minister Nick Gibb said the government was also considering how to use "maritime assets" in order to prevent crossings.
And, writing in the Daily Telegraph, Immigration Minister Chris Philp said migrants should be fingerprinted.
However, it is unclear what the proposal will amount to, as the fingerprints of asylum seekers are already stored under the European Union Eurodac system.
Mr Philp said migrants would know "they face real consequences if they try to cross again", and added he would "negotiate hard" with French officials about how to deal with the crossings.
BBC reporter Simon Jones, in Dover, said on Saturday that the coastguard was dealing with a number of incidents.
He said that local people have been asking why more was not being done by the French to patrol the coastline, but authorities across the Channel have said they need more finances from the UK government.
Questions have also been raised about why once people arrive in the UK they are not sent back to France.
'Loophole'
Home Secretary Priti Patel has described the situation as "complex", saying in a tweet on Friday that the government faces "serious legislative, legal and operational barriers".
The Home Office said it is possible that the Royal Navy could be brought in to patrol the Channel's migrant traffic.
But the idea of using the Navy was branded "completely potty" by a Ministry of Defence source, the PA news agency reports.
The source said such action would be "inappropriate and unnecessary" and that military resources should not be used to address "political failings".
Asked about the potential for Navy involvement, Mr Gibb told BBC Breakfast that the government would look at how it could "use maritime assets".
Mr Gibb added: "We are determined to tackle it, from a humanitarian point of view as much as from an immigration point of view."
Former director general of UK Border Force, Tony Smith, said smugglers have identified a "loophole" in international law.
The UN's 1951 Refugee Convention says that once a person is in the jurisdiction of a country – such as territorial waters – then authorities are obliged to rescue people, bring them ashore, and allow them to lodge an asylum application, Mr Smith told BBC Radio 4's Today programme.
However, under a long-standing EU deal, called "Dublin III", the UK has the right to send back anyone who is seeking asylum if they could have reasonably claimed it in another country along the way.
That arrangement will cease at the end of the Brexit transition period – next January – unless the UK and the EU agree a similar deal.
More than 1,000 migrants arrived on UK shores using small boats in July, while 235 were detained this Thursday – the record for a single day.
Ms Patel said the number of crossings was "unacceptably high", adding in a tweet on Friday that "genuine refugees" would be able to claim asylum in other "safe" EU countries.
MPs have launched an inquiry into the rising numbers entering the UK.
Labour has accused ministers of "failing to get to grips with the crisis".
'Defies belief'
Matt Coker, a fisherman in the Channel, told BBC Radio 4's Today programme that it was "very common" for him to see people trying to cross the Channel in inflatable boats, adding that he saw them "every calm day".
"Some of the things I've seen it defies belief," Mr Coker said. "The latest thing seems to be a lot of these inflatable canoes and inflatable kayaks."
Mr Coker added: "They're not meant to be going out to sea in these sort of things, they're for use on the beach and they seem to be out in the middle of the Channel, paddling across with shovels and bits of wood."
More migrants caught
Meanwhile, French police have told the BBC that they are catching more migrants attempting to cross to the UK by sea than ever before.
Officers said they have intercepted 10 times the number of migrants from boats in French waters in July this year, compared to the same period last year.
They said their success rate in catching migrants has increased from 40% in 2019 to 47% in 2020.