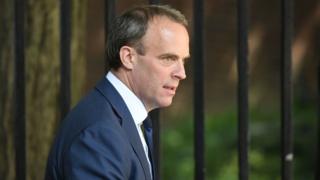 The UK will later impose sanctions independently for the first time on dozens of individuals accused of human rights abuses around the world.
Dominic Raab will name the first violators to have their assets frozen as part of a new post-Brexit regime.
These are expected to include Russian officials thought to be implicated in the death of Sergei Magnitsky in 2009.
The whistleblower's maltreatment while in custody has been condemned by the European Court of Human Rights.
In the past, the UK has almost always imposed sanctions collectively as a member of the United Nations or European Union but, after its departure from the EU in January, a new framework is being put in place in UK law.
The foreign secretary will later table the final legislation needed to make this happen in the House of Commons.
It will target individuals or organisations accused of human rights violations around the world, as well as those who profit financially from those abuses.
The foreign secretary will name several dozen people who will have their assets in the UK frozen and who will also be banned from entering the country.
'10 year campaign'
The first list is expected to include individuals from Russia, Saudi Arabia and North Korea.
Many MPs have long been pushing for a tougher domestic sanctions regime against foreign states accused of human rights abuses, based on the US Magnitsky Act.
The law was passed in response to the case of Sergei Magnitsky, a Moscow lawyer and auditor who accused Russian tax officials of defrauding Heritage Capital Management, a foreign investment firm he was advising.
Magnitsky spent 11 months in police custody after being arrested in 2008, during which he sustained injuries which human rights campaigners say were consistent with him being beaten and tortured.
In 2019, European Court of Human Rights found there had been "multiple violations" of the European Convention of Human Rights, with Magnitsky being deprived of important medical care and the authorities had not complied with their duty to protect life.
Bill Browder, co-founder and chief executive of Heritage Capital, said the sanctioning of individuals involved would represent "a huge milestone in our 10 year campaign for justice".
'Inflicting pain'
Mr Raab said: "From today, the UK will have new powers to stop those involved in serious human rights abuses and violations from entering the UK, channelling money through our banks and profiting from our economy.
"We will not let those who seek to inflict pain and destroy the lives of innocent victims benefit from what the UK has to offer."
BBC diplomatic correspondent James Landale said the new sanctions regime had been "long in coming, but forms a central plank of the government's foreign policy ambition to make Britain a global defender of international rules and human rights".
The initial list of those being sanctioned is not expected to include anyone from China.
It comes amid tensions between the UK and China after the Chinese government introduced a new security law in Hong Kong, which Boris Johnson said violated freedoms of the UK's former colony.
A Foreign Office spokesperson said the UK would continue to work with its allies to punish those responsible for violations, potentially including those "who commit unlawful killings perpetrated against journalists and media workers, or activity motivated on the grounds of religion or belief".