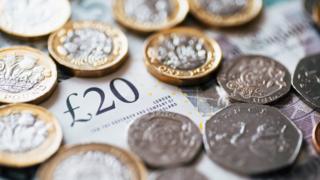 Total UK government debt has exceeded £2 trillion for the first time.
At the end of July, debt was £2.004tn, £227.6bn more than at the same point last year, the Office for National Statistics (ONS) said.
This is 100.5% of GDP, the first time it has been above 100% since the 1960-61 financial year, the ONS said.
The government borrowed £26.7bn in July, down from a revised £29.5bn in June, as the coronavirus pandemic took its toll on the public finances.
The July figure – the difference between spending and tax income – was the fourth highest borrowing in any month since records began in 1993. The three higher figures were the previous three months.
"The £26.7bn the government borrowed in July was the lowest monthly borrowing figure since March as fiscal support started to unwind. Nonetheless, it is another huge sum and pushes borrowing in the year to date to £150.5bn," said Ruth Gregory, senior UK economist at Capital Economics.
"That is close to the deficit for the whole of 2009-10 of £158.3bn, which was previously the largest cash deficit in history, reflecting the extraordinary fiscal support the government has put in place to see the economy through the crisis."
The ONS cautioned that borrowing estimates were subject to "greater than usual uncertainty".
It said the June figure had been revised down by £6bn, largely because of stronger than previously estimated tax receipts and National Insurance contributions.