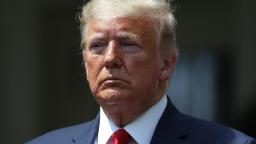 Trump's absolutely tone-deaf response to the death of George Floyd while in police custody in Minneapolis — most notably a photo-op of Trump holding a Bible outside of St. John's church in Washington —
has been roundly criticized
, including by many top former White House officials. "Donald Trump is the first president in my lifetime who does not try to unite the American people — does not even pretend to try,"
said former Defense Secretary James Mattis earlier this month
. "Instead he tries to divide us."
Add it all up and you get this: In a roller-coaster presidency, this is the lowest Trump has ever been.
It's too soon to declare Trump's presidency over — there are still 138 days before the November election — but there's no question that he now faces longer odds than ever before in his bid to win a second term.
As he so often does when faced with facts he doesn't like, Trump turns to favorable outlets — and to Twitter — to seek to create his own reality.
"These horrible & politically charged decisions coming out of the Supreme Court are shotgun blasts into the face of people that are proud to call themselves Republicans or Conservatives. We need more Justices or we will lose our 2nd. Amendment & everything else. Vote Trump 2020!"
In an interview with The Wall Street Journal released Thursday afternoon, Trump seems to take credit for drawing attention to Juneteenth, a day of remembrance commemorating the official end of slavery in the United States.
Trump's retreat into an alternate reality, however, won't change the actual reality. No matter how many tweets he send or how many adoring fans he packs into an indoor arena in Tulsa on Saturday, the facts are these: Trump is not only faced with the worst political outlook of his presidency but is also facing signs of a revolt from within his own party and even among those who he once relied on as trusted advisers.
Trump likes to insist that he does best when all is chaos around him and when people are counting him out. Now's his chance to prove it — because digging out of the hole he has made for himself will be a massive task.
CORRECTION: This story has been updated to correct the description of Grassley's announcement.