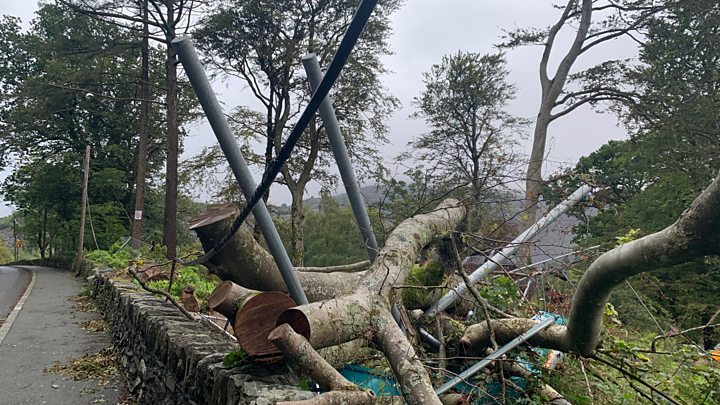 Dozens of people were evacuated from their homes overnight and there was widespread travel disruption after Wales was hit by Storm Francis.
The country saw winds of up to 75mph (120km/h) and severe flooding. A yellow Met Office warning for wind ended at 09:00 BST on Wednesday.
Electricity has now been restored to the majority of thousands of homes affected by power cuts.
But in north Wales there were 80 evacuations and rescues.
North Wales Police said the River Ogwen burst its banks in some places, requiring evacuation of properties in the Bethesda and Beddgelert areas.
Police, Mountain Rescue Teams and North Wales Fire and Rescue co-ordinated the evacuation.
In Bethesda about 40 people were rescued from chalets and homes and taken to the local leisure centre.
About five Beddgelert householders were also rescued by boat, the fire and rescue service said.
An inspection will take place on Wednesday morning to see if it is safe for them to return.
Meanwhile, the A5 has been closed from Bethesda to Betws y Coed due to flooding and a landslide.
Firefighters also had to help six people to safety after a property became flooded at Abergwyngregyn, in Gwynedd.
North Wales Fire and Rescue Service said it received 52 calls about flooding incidents, mostly in the Beddgelert, Abergwyngregyn, Bethesda and Llandygai areas, and carried out 80 evacuations and rescues overnight.
Alun Hughes, who reopened the Tan yr Onnen Hotel in Beddgelert only one month ago, said he was now facing an extensive clean-up after flood water damaged the property "from front to back".
"It all happened so suddenly, one minute we were about to finish serving food and then there was a shout that water was coming in through the doors. It will be another few months before reopening," he said.
"Gwynant Street was evacuated, this is the street that goes towards Betws y Coed. I had a family from Yorkshire here with four children, staying in Anglesey, and they stayed here overnight."
He added that a tree had hit the bridge near Bonanno School and the river breached the flood defence walls on either side.
"Beddgelert looks awful. There's a lot of mess here. Most of the water was not just from the river but down from the mountain," he said.
"I've been here for 40 years. I had to replace carpets back in the 80s after something similar, but I've never seen something like this and I don't think anyone has seen it this bad.
"The problem is that the River Colwyn can rise fast and then the Glaslyn, and other lakes behind us. It has rained so much, the river was so high, there was almost nowhere for the water to go."
In Cardiff, South Wales Police said Church Street in the city centre had been "evacuated and will remain closed for several hours" due to damage caused to buildings by strong winds.
Meanwhile, police were set to resume a search for two people spotted in the River Taff near Cardiff on Tuesday.
A number of properties and businesses in Cardiff were also damaged as trees fell down in high winds.
Nine campers in Carmarthenshire had to be rescued on Tuesday and roads were closed across the country after a number of fallen trees blocked roads.
Energy suppliers worked "right the way through the night" to restore power supplies across Wales.
SP Energy Networks, which supplies homes in North Wales, said about 50 customers were still without power.
"Through the course of yesterday we saw supplies affecting around 10,000 customers. We've been able to restore 9,950 lines so far," regional director Liam O'Sullivan told BBC Radio Wales Breakfast.
Matt Jones, group manager at South Wales Fire and Rescue, told the programme: "Wind conditions… were unusual for this time of year and we've seen several trees being uprooted and blocking roadways.
"We've seen the Severn Bridge crossing being closed because of the wind conditions so crews have been busy across south Wales responding to these incidents to ensure people are kept safe.
"Most of the calls we've been dealing with over the past 24 hours have been involving unsafe structures and trees etc which have been uprooted across roads, so we've been working with local authorities and other partners to get these roads open and made safe as quickly as possible."
Natural Resources Wales warned that such storms could become more commonplace due to the effects of climate change and said people needed to take individual action in terms of preparing for bad weather.
"We've had two named storms in the space of a week and it hasn't happened before," said Jeremy Parr, head of flood and incident risk management.
"So they are unusual situations but maybe this is one of the things that we also need to think about in terms of weather patterns and the impact of climate change, to be more prepared for these types of events in the future and the possibility of them happening."