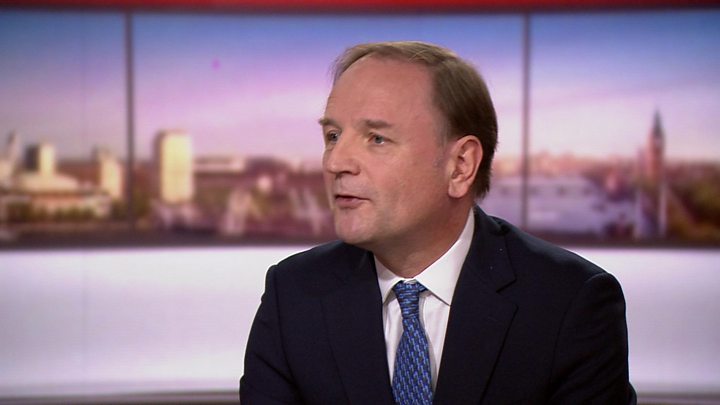 Plans to adequately fund the social care sector need to be in place within a year, the head of NHS England has said.
Sir Simon Stevens told the BBC the Covid-19 crisis had shone a "very harsh spotlight" on the "resilience" of the care system.
He said there was a need to "decisively answer" how high quality care could be provided long-term.
The Department of Health said it would bring forward a plan for reform.
In their 2019 election manifesto, the Conservatives pledged to find a cross-party solution to reduce pressures on the sector and provide long-term funding.
Speaking on the BBC's Andrew Marr programme, Sir Simon said the Covid-19 pandemic should be used to give momentum to plans to overhaul how the system works.
"If any good is to come from this, we must use this as a moment to resolve once and for all to actually properly resource and reform the way in which social care works in this country," he said.
"The reality is that after at least two decades of talking about it, we do not have a fair and properly resourced adult social care system with a proper set of workforce supports."
Covid-19 'legacy'
He added: "I would hope by the time we are sitting down this time next year on the 73rd birthday of the NHS that we have actually, as a country, been able to decisively answer the question of how are we going to fund and provide high-quality social care for my parents' generation.
"If you take back the history coming out of the Second World War, the country at that point was on austerity. We had rationing for bread and potatoes.
"The founders of the NHS did not use that as a moment to hesitate, they said, 'let one of the legacies of the war be the creation of the NHS'.
"That's the same legacy we need for long-term care support in social care coming out of coronavirus."
Labour leader Sir Keir Starmer said he agreed with NHS England chief executive Sir Simon.
"The system needs a huge amount of work – it has been broken for a long time," Sir Keir said.
"I think it has been fractured, it's been underfunded, I think the staff have been undervalued and underpaid, and the prime minister needs to take responsibility.
"The Conservative government has been in power for 10 years and therefore they've had time to start doing something about social care – they haven't done it."
'Complex questions'
A Department of Health and Social Care spokesperson said it had set out a "comprehensive action plan" to support social care in England during the pandemic.
"We know there's a need for a long-term solution for social care and there are complex questions to address," they added.
"We will bring forward a plan that puts social care on a sustainable footing to ensure the reforms will last long into the future."
Social care costs
Adult social care encompasses the support provided by councils to older people and younger adults with disabilities.
Unlike health care, social care is not generally provided for free. In England, anyone with assets over £23,250 is expected to pay for some or all of their costs, leading to the prospect of some having to sell their homes to pay for care.
Services have also been stretched as a result of years of funding cuts from government and growing demand linked to an ageing population.
In Scotland, free personal care is available. Some care costs are capped in Wales, and home care is free for the over-75s in Northern Ireland.
Political parties have been talking about reforming the sector for the past 20 years.
The Conservatives previously brought forward legislation for a cap on care costs, but the plan was scrapped amid concerns about the costs of implementation.
However, the idea was again considered by ministers in the current government prior to the coronavirus outbreak.
At December's election, the government pledged an extra £1bn per year for social care in England over the next five years.
It has subsequently given an extra £3.2bn in emergency Covid-19 funds to English councils, which can be put towards helping with social care costs.
Ministers have also promised an additional £600m for care homes to help with controlling infections.
---
Do you work in a care home? Share your views and experiences by emailing haveyoursay@bbc.co.uk.
Please include a contact number if you are willing to speak to a BBC journalist.