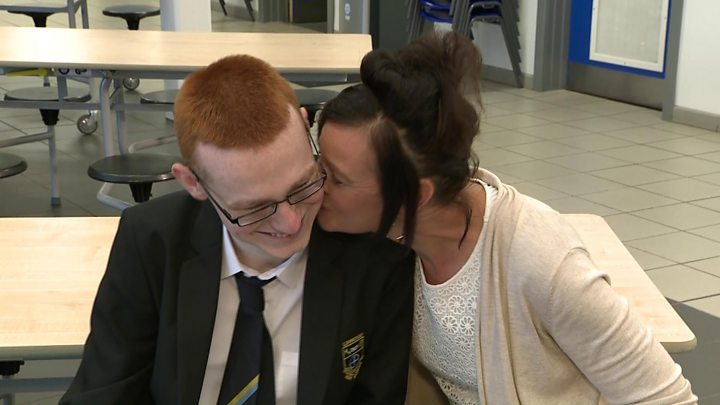 Scottish school pupils have been finding out their results, with overall pass rates rising despite about a quarter of grades – nearly 125,000 – being lowered by the exams body.
Exams were cancelled for the first time in history due to the coronavirus.
Results were worked out using estimates made by teachers based on the pupil's performance over the school year.
However, a national moderation system meant that many pupils received lower grades than originally estimated.
Opposition politicians have warned that there will now be a "deluge" of appeals, and accused the Scottish Qualifications Authority (SQA) of treating the professional judgement of teachers with "contempt" by changing so many grades.
The SQA said its moderation process had ensured "fairness to all learners" and maintained "standards and credibility" in the qualification system.
About 138,000 students have been getting their results, with those who signed up for text or email alerts receiving their grades from 08:00 onwards, while certificates are arriving in the post during the day.
The pass rate for National 5 was 81.1%, while the Higher pass rate was 78.9% and the Advanced Higher rate was 84.9%.
In 2019, the National 5 pass rate was 78.2%, the Higher pass rate was 74.8% and the Advanced Higher rate was 79.4%.
Most pupils take their Nationals when they are in their fourth year of secondary school.
They can then stay at school for another two years and work towards Higher qualifications in their fifth year, and Advanced Highers in sixth year.
A total of 133,762 individual results were adjusted by the Scottish Qualifications Authority (SQA) from the 511,070 initial estimates of grades that were submitted by teachers.
Of these, only 9,198 of the estimates were adjusted up, while 124,564 were adjusted down. Almost all (96%) were adjusted by a single grade.
If the results had purely been based on the estimates from teachers, pass rates at grades A-C would have increased by 10.4 percentage points for National 5, by 14 percentage points for Higher and by 13.4 percentage points for Advanced Higher.
SQA figures also showed that the Higher pass rate for pupils from the most deprived backgrounds was reduced by 15.2 percentage points, compared to only 6.9 percentage points for the wealthiest pupils.
But the exams body insisted that the most deprived pupils had not suffered compared to previous years – and the Scottish government said the attainment gap has narrowed this year.
Education Secretary John Swinney said the estimated results would have led to a higher annual change than had ever been seen before in Scottish exam results if they had not been moderated by the SQA.
He added: "I know teachers and lecturers will always want the best for their pupils but I believe that teachers have acted professionally."
Scottish school pupils traditionally find out their results earlier than those in England, Wales and Northern Ireland, who will receive their grades for A-levels on 13 August and GCSEs on 20 August.
'Difficult decisions'
First Minister Nicola Sturgeon said pupils deserved "enormous credit" for the way they had coped after exams were cancelled across the UK as schools closed and the country went into lockdown in March.
She added: "At a moment's notice you had to adapt to new forms of learning, your contact with friends and family was restricted, many of you missed out on a proper end to your final year, you didn't get to sit exams.
"Of course, you're now having to think about your future in a time of real economic uncertainty.
"All of that has been really tough and we don't underestimate how tough that has been, and I know that for some of you there will be difficult decisions that lie ahead."
Pupils at Holyrood Secondary in Glasgow were among those to receive their grades on Tuesday morning.
Dionne told BBC Breakfast she had not known what to expect – but got "exactly what I was hoping for".
"It means I'm going to university and I'm just so happy. I can't believe it," she said.
Her father John said he was "so proud" of his daughter.
"She's done so much better than I could have ever done at school. It's been such a time of uncertainty and it's a massive wait over now."
This year was the first time since 1888 that exams were cancelled in Scottish schools.
Pupils should have been sitting exams in National 5, Higher and Advanced Higher subjects in May and June. There are no formal exams for National 2, National 3 and National 4 qualifications.
What help is available to pupils?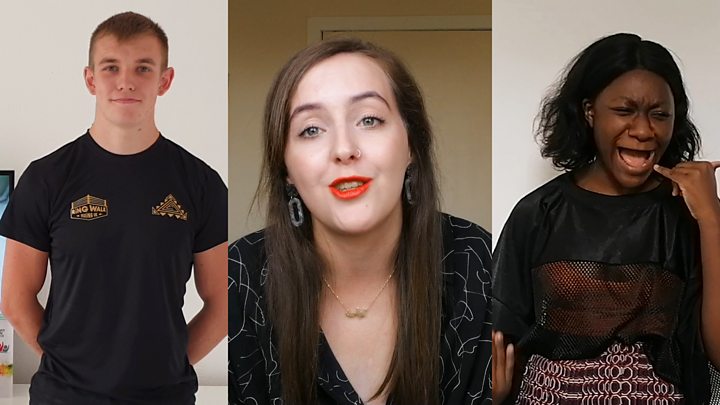 Skills Development Scotland runs a free results helpline offering careers advice, information and guidance on 0808 100 8000.
It will be open from 0800 to 2000 on Tuesday and Wednesday, then 0900 to 1700 on Thursday and Friday. Information and advice is also available on the My World of Work website.
James Russell, from SDS, said this year was "unlike any other" and that it was understandable that young people and their families would be feeling more anxious than usual.
"Our advice and support is available and our message is if your results aren't what you expected, don't worry – you have lots of options," he said.
The #NoWrongPath campaign is encouraging people to share their own stories on social media to highlight the different paths available to young people who may be feeling disheartened by their results.
The SQA's candidate advice line will run from 0800 to 1800 on Tuesday, and from 0830 to 1700 on Wednesday, Thursday and Friday. The number is 0345 279 1000.
Support and advice is also available on the SQA website and on BBC Bitesize. Young people can also call Childline on 0800 1111 or get advice about exam results on its website.
How were the results decided?
As in the rest of the UK, the grades of pupils who were unable to sit exams have been worked out using estimates made by their teachers based on their performance over the school year.
Teachers were asked to place students within bands for each subject, and rank their pupils in order.
These assessments were then checked by the SQA, which said grades had been moderated "where appropriate" to "maintain national standards".
The SQA said it had sought to "uphold the integrity and credibility" of the system in its moderation, but that its efforts had been focused on "ensuring fairness for all learners".
The exams body also said it would look at each school's previous history of estimating results and attainment, but denied that a school's previous record could put pupils at either an advantage or a disadvantage.
Where a pupil receives a lower grade than the one estimated by their teacher or lecturer, they will be able to use a free appeals process.
Scottish Labour has accused the SQA of treating the judgement of teachers with "contempt" by lowering the grades of so many pupils – which can damage their prospects for university or college.
The party's education spokesman, Iain Gray, said: "Worst of all, the SQA have done this on the basis of each school's past performance, marking the school not the pupil, and baking in the attainment gap.
"They were told that this would be grossly unfair and it is.
"The SQA will now be deluged with appeals. I hope they are ready to deal with them properly."
This has been a results day like no other – with grades based on estimates by teachers rather than exams.
Pass rates are up in National 5s, Highers and Advanced Highers but they are still similar to the pass rates in previous years.
This is crucial – dramatic rises could have undermined the achievements of learners.
Around a quarter of teachers' estimated grades were adjusted by the SQA – mostly downwards.
Some candidates or teachers will be disappointed by this but it highlights the importance of the appeals system.
Where a grade is adjusted down, appeals can be made but supporting evidence will be needed
This is crucial to the integrity of the system.
Have you received your results today? Share your experiences by emailing haveyoursay@bbc.co.uk.
Please include a contact number if you are willing to speak to a BBC journalist.