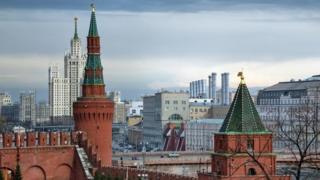 A long-awaited report into alleged Russian interference in the 2017 general election and the 2016 Brexit vote is to be published next week.
The Intelligence and Security Committee voted unanimously for it to be released before Parliament's summer break.
The delay in publishing the report, which was completed last year, has led to speculation that it contains details embarrassing for the Conservatives.
But the government denies that political considerations were involved.
The report is thought to look at a wide range of Russian activity – from traditional espionage to subversion – but the greatest interest is in possible interference in the 2016 and 2017 votes.
Downing Street gave clearance for publication last autumn, but this was held up by December's general election and then the delay in setting up the committee,
The ISC, which meets behind closed doors, took evidence from independent experts and MI5, MI6 and GCHQ.
The decision by the nine-member ISC to bring out the report follows the election of Julian Lewis, a Tory MP since 1997, as its chairman on Wednesday.
Mr Lewis put himself forward for the role, apparently against the wishes of Downing Street, which had preferred Chris Grayling for the job.
The three Labour members and one SNP member supported Mr Lewis, who was then immediately expelled from the Conservative Parliamentary Party.
A senior government source told the BBC that he had "been told by the chief whip that it is because he worked with Labour and other opposition MPs for his own advantage".
But in a statement, Mr Lewis, MP for New Forest East, said the 2013 Justice and Security Act had "explicitly removed the right of the prime minister to choose the ISC chairman and gave it to the committee members".
He added: "It was only yesterday afternoon [Thursday] that I received a text asking me to confirm that I would be voting for the prime minister's preferred candidate for the ISC chair.
"I did not reply as I considered it an improper request. At no earlier stage did I give any undertaking to vote for any particular candidate."
Mr Lewis also said the government had denied wanting to "parachute" a preferred candidate in to the chair, adding:"It is therefore strange to have the whip removed for failing to vote for the government's preferred candidate."
Asked whether the decision to expel Mr Lewis from the Conservative parliamentary party had been the right one, Business Secretary Alok Sharma said it was "a matter for the whips" and the committee could "now move forward with its work".
And Leader of the House Jacob Rees-Mogg said the hold-up in publishing the report had been due to a number of committee members leaving Parliament and the need "to make sure that the right people with the right level of experience and responsibility could be appointed".