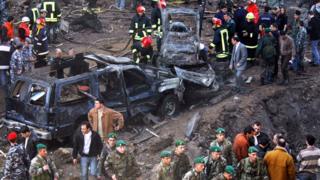 One of four men accused of killing a former Lebanese prime minister in Beirut in 2005 has been convicted by a special UN-backed court.
Salim Ayyash and the others, all from the Shia militant group Hezbollah, had been on trial in absentia since 2014.
The killing of Rafik Hariri, one of Lebanon's most prominent Sunni Muslim politicians, caused outrage across the country.
The verdict comes at a time of deep political crisis in Lebanon.
Ayyash was found guilty of conspiracy to commit a terrorist act, assassinating Hariri and causing the deaths of 21 others and injuring 226 more in the suicide car bombing on 14 February.
The presiding judge said there was no evidence that Hezbollah's leadership nor one of its patron's, Syria, were implicated in the attack.