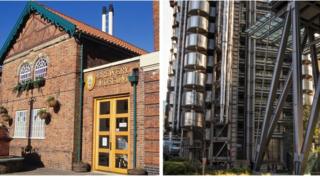 Pub chain Greene King and insurance market Lloyd's of London have apologised for their historical links to the slave trade.
One of Greene King's founders owned a number of plantations in the Caribbean.
Meanwhile, maritime insurance – which was focused on Lloyd's – thrived on the trans-Atlantic slave trade.
Both corporations have apologised and Lloyd's has said it will donate to charities representing black, Asian and minority ethnic (BAME) groups.
Greene King said it would make a "substantial investment to benefit the BAME community", after consulting with its staff on how this money can best be used.
'Appalling and shameful'
Lloyd's and Greene King's moves were first reported by the Telegraph in the UK.
Lloyd's, which was founded in 1688, insured slave ships. It is often lauded as the world's leading insurance market, focusing on specialist areas, such as marine, energy and political risk.
In a statement, Lloyd's said: "There are some aspects of our history that we are not proud of.
"In particular, we are sorry for the role played by the Lloyd's market in the 18th and 19th-Century slave trade."
"This was an appalling and shameful period of English history, as well as our own, and we condemn the indefensible wrongdoing that occurred during this period."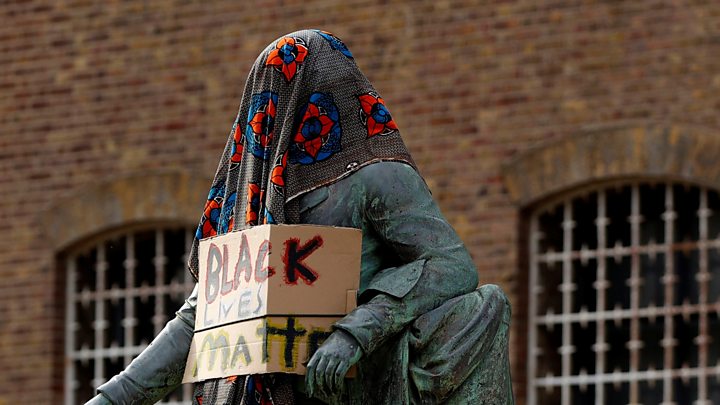 The insurance hub said it would provide financial support to charities and organisations promoting opportunity and inclusion for BAME groups.
It has also launched a number of new initiatives aimed at developing black and minority ethnic talent within the organisation.
"In recent years, Lloyd's has driven ahead with a series of positive programmes designed to improve culture across the market. We have made progress, but not enough."
'Inexcusable'
Brewer and pub chain Greene King was originally founded in 1799 by Benjamin Greene, who owned highly-profitable plantations.
His son Edward took over control of the brewery in 1836 and it was renamed Greene King in 1887 after merging with a local brewery.
When slavery was abolished in 1833, the UK government raised huge amounts for compensation. However, that money was not paid to those who had been enslaved, but was given instead to slave-owners for their "loss of human property".
Benjamin Greene was one of thousands who received payment. Details of the sums are listed in a database held by the University College London (UCL).
Nick Mackenzie, Greene King's chief executive officer, said: "It is inexcusable that one of our founders profited from slavery and argued against its abolition in the 1800s. While that is a part of our history, we are now focused on the present and the future."
To address the issue, the pub chain will "make a substantial investment to benefit the BAME community and support our race diversity in the business".
'Painful issues'
Royal Bank of Scotland (RBS), Lloyds Banking Group, Barclays and HSBC were among a number of banks found by the Telegraph to be linked to the slave trade.
Royal Bank of Scotland: In a 2009 report, the bank admitted that individuals who were partners or directors of RBSG (Royal Bank of Scotland Group) predecessors "may have owned slaves themselves or been otherwise directly connected to slave enterprises in the British West Indies".
Founded in Edinburgh in 1727, it also found evidence that suggested other partners of its predecessors may have been part-owners of "ships involved in slave trading voyages during the 18th and early 19th Centuries".
"As an organisation with a history stretching back more than 300 years, these important and painful issues have a place in our history. We recognise our responsibility to engage with that", RBS said in a statement.
The bank, currently majority-owned by the UK government, added that it had "looked into its past links with slavery very extensively and thoroughly", and would look at "what more we can do as a bank", including making financial contributions to BAME groups.
Lloyds Banking Group: John White Cater was the president of London and Brazilian Bank and received compensation for five claims for estates in Jamaica. Eight former companies associated with the group have links to claimants or beneficiaries in UCL's database.
A Lloyds Banking Group spokesperson said: "A lot has changed during the 300-year history of our brands and while we have much within our heritage to be proud of, we can't be proud of it all. Like any institution that is so interwoven with our country's history, we must acknowledge and learn from our past."
They added that the firm would "deliver better results for our colleagues and customers. This is our aim. We can do more, we can do better and we will do it together."
Barclays: One manager, one founder subscriber and three directors of the Colonial Bank are listed as claimants or beneficiaries by UCL. It was merged with Barclays in 1917. The claims include nine by director John Bloxam Elin relating to estates in Jamaica.
"The history of Barclays, like other institutions, is being examined following recent events. We can't change what's gone before us, only how we go forward," a Barclays spokesperson said.
"We are committed as a bank to do more to further foster our culture of inclusiveness, equality and diversity, for our colleagues, and the customers and clients we serve."
HSBC: According to UCL's database, George Pollard was a trustee over a claim related to the Calhoun estate in Nevis. Mr Pollard was manager of the London Joint Stock Bank, which was eventually merged into HSBC, now the UK's largest bank.
HSBC did not immediately respond to the BBC's request for comment.
Pressure has been growing on the corporate world to address links to slavery and tackle racial inequality following the death of George Floyd in the US last month while in police custody.