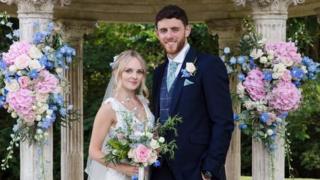 PC Andrew Harper's widow has written to the prime minister to ask for a retrial after her husband's killers were acquitted of murder.
The officer died when he was dragged behind a car for more than a mile along a road in Berkshire.
In an open letter on Facebook, Lissie Harper called for "the retrial that [PC Harper] unquestionably deserves".
A No 10 spokesperson said Mr Johnson would contact the family "once legal proceedings have concluded".
Henry Long, Albert Bowers and Jessie Cole will be sentenced at the Old Bailey on Friday.
They were convicted of manslaughter but cleared of murder after jurors deliberated for more than 12 hours.
Mrs Harper wrote to Boris Johnson, Home Secretary Priti Patel and Lord Blunkett, a former Labour home secretary, urging them and others "to right such a despicable wrong for our country".
She vowed to "keep fighting on behalf of Andrew, the future that was stolen from us and also the victims who find themselves in this unjust situation in the future".
During the trial, the judge ordered extra security measures amid fears of potential juror intimidation by the defendants' supporters.
A female juror was discharged a day before deliberations started after she was seen by a prison officer mouthing the words "bye boys" to the teenagers in the dock.
The defendants, who had been seen laughing during the trial, hugged each other after the verdicts were returned.
---
It is hard not to have the deepest sympathy for Lissie Harper but she has a legal mountain to climb to secure a retrial.
It is extremely rare for verdicts of "not guilty" to be set aside, whatever the strength of feeling about the process which led the jury to their decision.
There are only two possible routes. First, under reformed "double jeopardy" laws, the Court of Appeal can, in very limited circumstances, quash an acquittal and order a retrial if fresh and compelling evidence emerges.
This provision has been typically used in cases where DNA links a suspect who's already been cleared to a rape or murder years later.
The second route allows the High Court to order a retrial where an acquittal is "tainted" because of intimidation of, or interference with, a witness or juror.
But for this to happen someone would have to be first convicted of an offence relating to jury or witness tampering in the case – and the court would have to be satisfied that it resulted in the acquittal.
---
PC Harper, 28, was dragged for more than a mile along country lanes after he and a colleague responded to reports of a quad bike theft on 15 August last year.
The newlywed officer became "lassoed" to the back of a Seat Toledo after he "unwittingly" stepped with both feet into the loop of a tow rope as he tried to apprehend one of the defendants, jurors heard.
Prosecutors said he was "swung from side to side like a pendulum" after Long sped off to escape the scene.
The court heard PC Harper was dragged for more than a mile before he became detached and died in the road.
During the trial, prosecutors had argued the defendants were guilty of murder because they were aware the officer was behind the car.
But their defence claimed it was a "freak event" that no-one could have planned or foreseen.
Outside court last week, Mrs Harper said she was "immensely disappointed" and had been left "utterly shocked and appalled" by the manslaughter verdicts.
PC Harper, from Wallingford, Oxfordshire, had been married for just four weeks to his childhood sweetheart before his death.
Within weeks, they had been due to go to the Maldives for their honeymoon.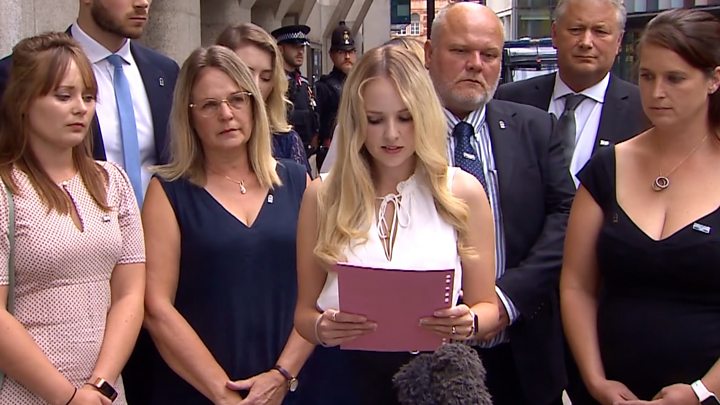 In her letter, Mrs Harper wrote: "I implore you to hear my words… and I ask with no expectations other than hope that you might help me to make these changes be considered, to ensure that Andrew is given the retrial that he unquestionably deserves and to see that the justice system in our country is the solid ethical foundation that it rightly should be.
"Not the joke that so many of us now view it to be."
The government is separate from the independent judiciary and cannot order a retrial – a principle designed to ensure consistent application of the law regardless of who is in power.
A No 10 spokesperson said: "The Prime Minister's thoughts are with the family and friends of PC Andrew Harper and they have his every sympathy for their loss.
"The bravery which PC Harper showed in intercepting those criminals is a reminder of the risks our police officers face every day to keep us safe.
"His courage, dedication and professionalism represents the very best of our police – and of all of us.
"The Prime Minister will respond to Mrs Harper's letter formally once legal proceedings have concluded."
The Home Office has been approached for comment.
Long, 19, of College Piece, Mortimer, Reading, pleaded guilty to manslaughter but denied murder along with Bowers and Cole.
Cole, 18, of Paices Hill near Reading, Bowers, also 18, of Moat Close, Bramley, and Long all admitted conspiracy to steal a quad bike.
The defendants are due to be sentenced on Friday.