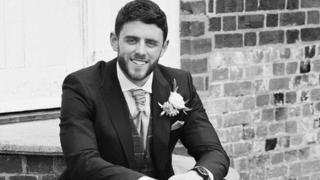 The killers of PC Andrew Harper have had their sentences referred to the Court of Appeal after the attorney general considered them to be "unduly lenient".
Suella Braverman QC said attacks against emergency workers should be "punished with the greatest severity".
PC Harper, 28, suffered catastrophic injuries when he was dragged behind a getaway car in Berkshire last August.
Henry Long, Albert Bowers and Jessie Cole were convicted of manslaughter.
Youth 'mitigating factor'
The driver, Long, 19, was jailed for 16 years while his passengers Bowers and Cole, both 18, were sentenced to 13 years each.
All three were cleared of murder charges following a trial at the Old Bailey in London.
At the time of the offence, Bowers and Cole were both 17. Only Long, aged 18, was an adult.
During sentencing Mr Justice Edis said the age of the defendants at the time of the offence was a mitigating factor in determining the length of their jail terms.
'Such heinous crimes'
The Attorney General Suella Braverman said PC Harper's killing was a "horrific crime which resulted in the death of a much-respected police officer while he was on-duty, protecting his community".
She said she had referred the sentences after "having personally considered the details of this shocking case".
"Offenders should be punished with the greatest severity for such heinous crimes," she added.
The unduly lenient sentence (ULS) scheme allows people to ask law officers to review sentences for certain crimes that they believe are too low. It only requires one complaint for the attorney general's office to consider whether to refer the matter to the Court of Appeal.
---
Analysis: Home affairs correspondent Danny Shaw
People often complain about sentences in criminal cases – but relatively few of the tens of thousands imposed every year are lengthened or made tougher.
Last year, the Attorney General's Office considered 577 cases which met the criteria for review.
Just 93 were referred to the Court of Appeal, 63 of which resulted in offenders receiving longer jail terms or being sent to prison where they had originally avoided it.
It's a high bar: the attorney will only send cases for appeal where a judge is believed to have made a "gross error" or handed down a sentence "outside the range" of those available.
A sentence that is a bit short, soft or low won't be changed by the Court – it must be "unduly lenient", in other words, very low.
---
The referral comes after PC Harper's widow Lissie and his mother Deborah Adlam launched campaigns calling for tougher sentences for killers of emergency service workers.
'Fairer outcome'
Lissie Harper said the attorney general's decision was "great news" and thanked the public for their "continued and unstinting support" for her campaign.
"The sentences for Andrew's killers did not match their heinous crime," she said.
"It was not justice and it needs to be addressed. Police officers need to be properly protected by the judicial system."
Also reacting to the decision, Mrs Adlam said: "My family and I know that the whole nation stands with us in outrage at the sentences handed down to my son's killers.
"We can only hope that a fairer outcome is reached by the Court of Appeal."
The maximum sentence a judge can impose for manslaughter is life imprisonment but they must specify a minimum term to be served.
---
What is the Unduly Lenient Sentence (ULS) scheme?
The scheme allows victims of crime, their families, prosecutors and the public to ask law officers to review sentences for certain crimes that they believe are unfair.
The attorney general can only ask the Court of Appeal to review a sentence under the ULS scheme if they consider that sentence to be "unduly lenient". It means, for example, that a sentencing judge made a gross error or imposed a sentence outside the range of reasonable sentences available.
The scheme only applies to sentences given in crown courts in England and Wales.
The attorney general acts independently of government when deciding on unduly lenient sentences.
Source: Attorney general's office.
---
Mr Justice Edis, the sentencing judge in the case, told the Old Bailey each of the jail terms for PC Harper's killers had to reflect "the seriousness of this case".
'Immaturity'
Sentencing Long, he told the leader of the group "although this is an extremely serious offence" he had decided not impose a life sentence because of his age.
"A man only a few years older than you would have received a life sentence," the judge said.
Long's custodial term had a starting point of 24 years, but was reduced to 16 years due to his age and his guilty plea of manslaughter. He will serve 10 years and eight months before he is considered for parole.
The judge said a starting point of 20 years for Cole and Bowers was reduced to 13 years each due to their ages and "immaturity".
A date for the hearing at the Court of Appeal has yet to be set.
On Wednesday, Bowers and Cole lodged applications with the Court of Appeal seeking permission to challenge their manslaughter convictions and sentences.