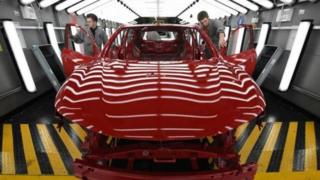 Nissan is closing its factory in Barcelona with the loss of about 2,800 jobs after the Japanese carmaker plunged to a $6.2bn (£5bn) net loss in the last financial year.
The move is part of a global restructuring, but Nissan said it's UK factory in Sunderland will stay open.
Nissan is cutting production and car models after sales fell before and during the coronavirus pandemic.
The company's net loss is its first for more than 10 years.
Restructuring
Nissan is part of a three-way alliance with Renault and Mitsubishi, which are restructuring global operations to enable them to work more closely and cut costs.
Nissan said it would focus on several "key markets", including Japan, North America and China.
In a press briefing, its boss said that it will "sustain" its presence in Europe but will leave more room for alliance partners there, such as Renault. There has been speculation that Renault could switch some production to the Sunderland factory.
Nissan chief executive Makoto Uchida told the press briefing the company would maintain production at its Sunderland plant.
It will begin building cars there again in June, after production was paused due to coronavirus-related lockdown measures.
Mr Uchida described the closure of the Barcelona factory as "a very difficult decision".
'Sigh of relief' for Sunderland workers
This is good news. For today, Nissan workers can breathe a sigh of relief that Sunderland has been recognised as an important production facility for the future.
However, lots of questions remain. Nissan has identified Japan, North America and China as "core" markets – not Europe. In Europe, Nissan's alliance partner Renault will assume a greater role and influence in Europe at a time when the global car market will have to make very aggressive cost reductions.
The question may arise in the future – who is really in charge in Europe? If it's Renault, what does that mean for future investment in a post-Brexit UK? Nissan alone said it had capacity to make seven million cars when it only needs capacity for five million.
Only plants that can demonstrate an ability to be ruthless about cost will continue to attract investment. As Professor David Bailey tweeted this morning: "Once again, the workforce will have to pull out all the stops to work flexibly to get costs down".
So, some belt tightening ahead, but workers in Sunderland will be thankful they are not in the same position as their Spanish and Thai counterparts, who are seeing plants closed down.
Drop in sales
On Thursday, Nissan also outlined plans to reduce the range of models of cars and trucks available in order to cut costs.
It said it would reduce the number of models from 69 to about 55 over the next few years, focusing instead on electric vehicles and sports cars.
Nissan said that worldwide sales of its vehicles between January and April had dropped by 31.1% in comparison with the same period last year.
But even before the Covid-19 outbreak, Nissan's sales and profits had been falling, forcing it to pull back from the ambitious expansion plan devised by now-ousted leader Carlos Ghosn.
The carmaker's operating profit had tumbled for four years in a row as it chased market share, particularly in America, leading led to overcapacity at its car plants and steep discounts.
The pandemic added yet more pressure on the company to step up its cost-cutting efforts. On Thursday the company said it was too difficult to forecast its performance in the next year due to the coronavirus pandemic.
Mr Uchida said that the firm's key focus during the pandemic was now to "pursue steady growth", instead of the massive sales expansion it pursued in the past.