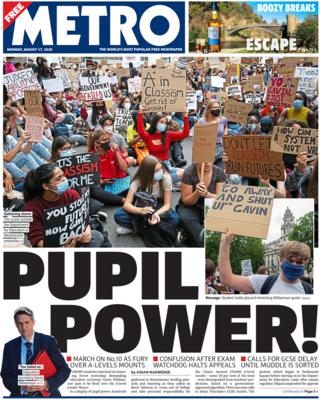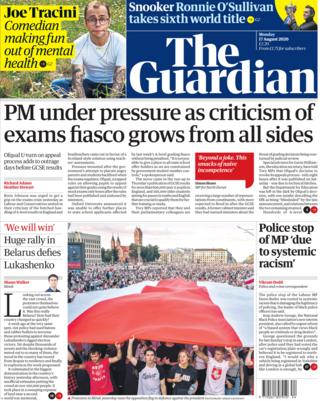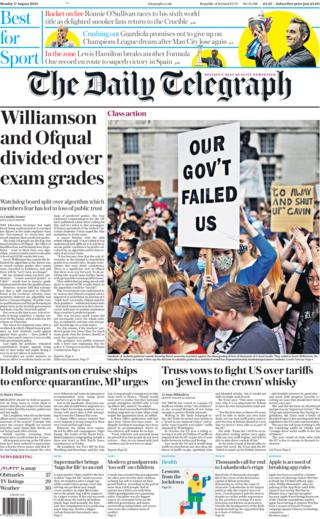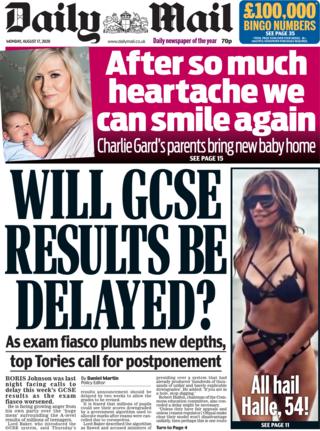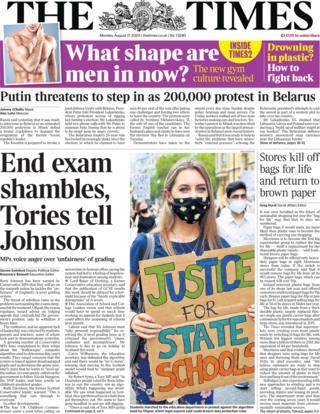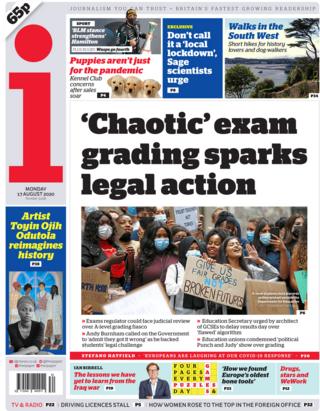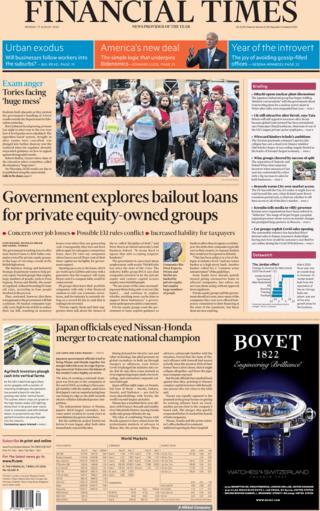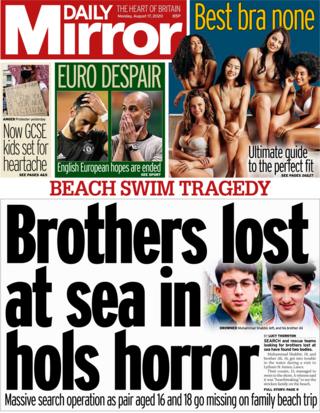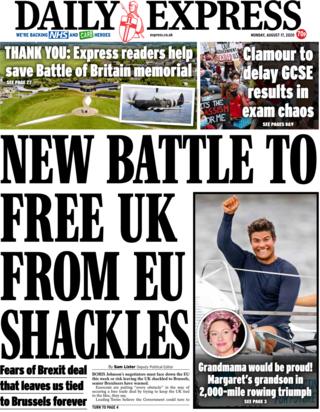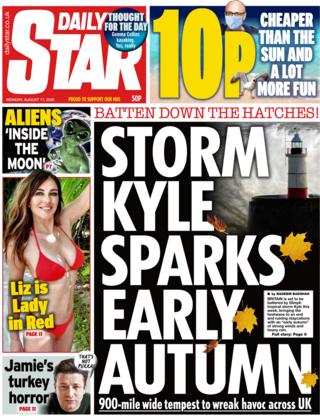 The Daily Telegraph reports that board members of the exams regulator Ofqual want to ditch their algorithm for awarding A-level and GCSE grades – and allow pupils to be awarded their predicted results.
The paper says it has been told by sources that splits emerged in Ofqual's board at the weekend – with some members warning the row had led to a haemorrhaging of public trust in qualifications.
The sources say that publishing GCSE grades using the algorithm would be "suicide". But Education Secretary Gavin Williamson has defended the methodology and said there will be "no U-turn".
"Another kick in the teeth for pupils," is the Daily Mirror's take on the decision to press ahead with publishing GCSE results as planned this week.
The paper's editorial supports predicted grades being used – pointing out that teachers know far more about individual children than a "criticised, controversial, condemned computer model".
But, in the Daily Express, Leo McKinstry says there is a need for "rigour" rather than "indulgence" when awarding marks – adding that grade inflation might give the "illusion of progress" but it "debases the integrity of exams".
The Times and The Guardian highlight the growing pressure Prime Minister Boris Johnson is coming under from his own backbenchers to deal with the fall-out over exam results.
The MP for Poole, Sir Robert Syms, has told The Times "there is real risk of Tory MPs going on the warpath" – adding that "people voted for Boris Johnson to run the country, not an algorithm".
The Guardian reports that Conservative MPs are already getting "large numbers of representations from frustrated constituents" – with more expected "to flood in" after the GCSE grades are released.
"£50 airport test could be a game-changer" is the headline in the Daily Mail, as it reports on calls from the travel industry to shorten the quarantine period.
Under a method that is already reportedly in use in Iceland, travellers pre-book a swab test on arrival and then take a second examination five days later.
If both tests are negative, a traveller is freed from needing to self-isolate. Advocates of the change say it would open up international travel and boost confidence among holidaymakers.
The Financial Times reports that the government is "seeking ways" to offer loans to companies such as Pizza Express and Prezzo that are owned by private equity groups.
Ministers hope the cash would rescue a "swath of the British high street". But any such plans could fall foul of European Union laws.
The FT points out that firms backed by private equity usually carry high levels of debt to reduce their tax bill – which results in statutory losses even when they are making cash. EU rules say companies whose losses exceed 50% of their share capital are ineligible for government support.
"Cut the mustard" is The Sun's headline as it says that dozens of British favourites including sausage rolls and mustard will be banned from daytime TV adverts as part No 10's planned anti-obesity drive.
According to new research, the products will not be seen on screens before 21:00 because of their salt content.
The paper adds that "posh snacks" such as quiche, hummus and potato salad "will also suffer" the same fate.
A spokesperson for the Department of Health has said the measures are "proportionate" and will help tackle obesity "as quickly as possible".
Sign up for a morning briefing direct to your inbox