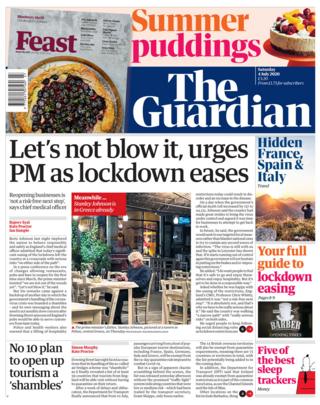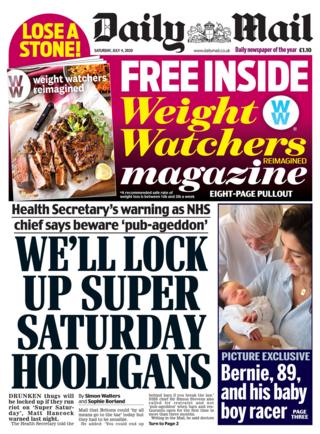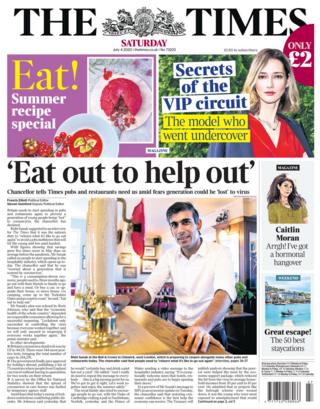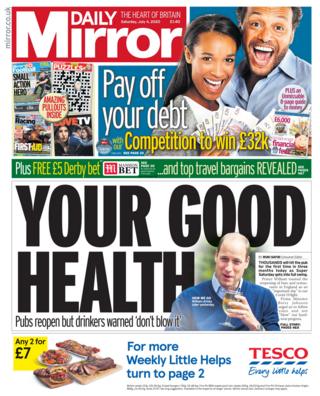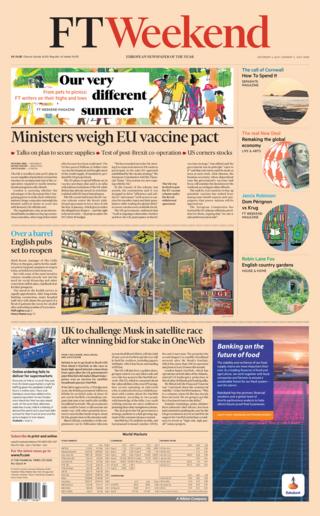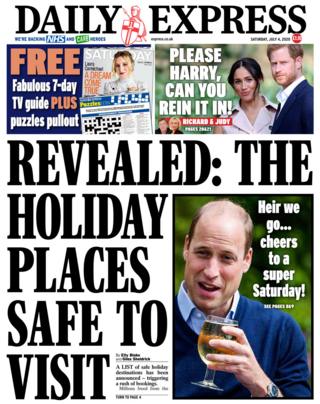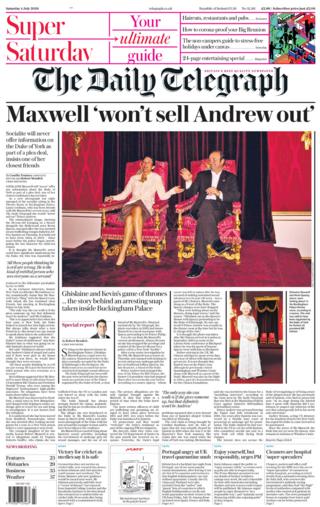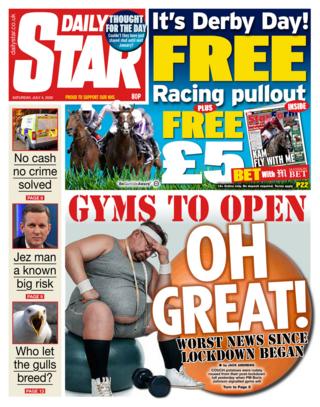 The Times says it is the moment that much of the country has waited 103 days for – as pubs, restaurants, hairdressers and cinemas in England reopen.
The Sun predicts that "gasping punters" will sink 15 million pints of beer in England today, and it urges people to drink to "our first proper taste of freedom".
The Daily Mail says reopening is vital to the economy, and jokes that when people head to the pub for the first time in months, they will probably argue about who bought the last round.
But the focus is not all on the good side of what the papers are calling "Super Saturday".
The Financial Times says landlords still fear for their prospects, because some of the most lucrative summer months have already been lost.
The Guardian thinks phrases such as "independence day" are "at odds with the rightly cautious mood of the public".
"Forget about the guts and bustle", the paper says, "just show some sense."
Paul Waugh on the HuffPost UK website says the prime minister's advice to the public "chops and changes" and says he seemed confused about it at Friday's Downing Street briefing. "The pubs hadn't even opened", he says, "and Boris Johnson already sounded drunk".
There is also criticism in the papers of the announcement about which countries can be visited without the need for quarantine on your return.
The Independent talks of "confusion" and "shambles", while the Sun says Greece was added to the list of safe nations only after a last-minute deal.
The Times highlights the row with the devolved nations, which meant the list applied only to England.
In Scotland, the National, a pro-independence paper, leads with Nicola Sturgeon's "fury" at the plan.
The Scottish Daily Mail says holidaymakers north of the border were left "grounded" and "in the dark". The paper calls it a "fiasco".
Sign up for a morning briefing direct to your inbox
The Times reports that the owner of one of Britain's most eye-catching homes is making another attempt to sell it, after years of setbacks.
The paper says anyone wanting to buy Sway Tower, a converted Victorian folly in Hampshire, will need several million pounds and a strong head for heights.
It is 66m (218ft) high and the tallest non-reinforced concrete structure in the world.
The owner, Paul Atlas, said he had been "messed about" during previous attempts to auction it.
He turns 74 this year, and says he has decided he should find something "a little closer to the ground".