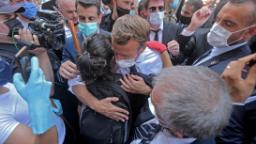 Lebanese officials have pointed to a possible cause of the massive explosion that tore through Beirut: Prime Minister Hassan Diab said the devastating blast was caused by 2,750 tons of ammonium nitrate. 
The dangerous compound — also known as AN — could be traced back to a massive shipment of agricultural fertilizer that had been stored in the port of Beirut without safety precautions for years, despite warnings from local officials. 
AN doesn't burn, but if exposed to heat, it can melt — which releases combustible toxic gases that can cause an explosion. It's even more dangerous if there is a large supply of AN all stored together, because once a small section of AN begins to melt and explode, the resulting heat can set off the rest of the supply.
Other AN disasters: One of the worst disasters in US history involving a form of ammonia occurred in April 1947 when a ship loaded with ammonium nitrate caught fire while docked in Texas City. The fire caused an explosion and additional fires that damaged more than 1,000 buildings and killed nearly 400 people, according to the website of the Texas Historical Association.
For perspective, that explosion was triggered by 2,300 US tons (about 2087 metric tons) of ammonium nitrate, according to US Homeland Security.
And the 1995 Oklahoma City Bombing, a US domestic terror attack that killed 169 people and injured 467, used only two US tons (1.8 metric tons) of ammonium nitrate.