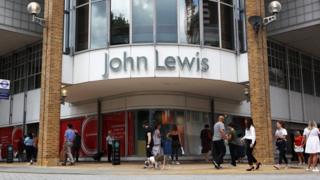 Department store owner John Lewis is planning to cut jobs and stores in an effort to slash costs.
The firm said it had come to terms with the fact it has too much store space.
It comes as luxury department store Harrods and Topshop owner Arcadia said they planned to cut as many as 1,180 jobs between them.
John Lewis' plans were first shared with staff at the company, which is owned by its employees. The number of stores and jobs has yet to be decided.
Cuts could also include the smaller of its two head office buildings in London.
"The reality is that we have too much store space for the way people want to shop now and we have shared this with our Partners," the company said in a statement.
"As difficult as it is, it is highly unlikely we will reopen all our John Lewis stores. However no decision has been made and any details would be shared with Partners first by the middle of July."
'Heavy heart'
The company is unlikely to pay its workers a bonus next year, it added.
The news was first reported by the Evening Standard, which obtained a copy of the memo to staff.
It follows a warning from the company in March that it could close shops, as a plunge in profits forced it to cut staff bonuses to their lowest level in almost 70 years.
The retailer, which also owns Waitrose, launched a review of the business which it said would involve "right sizing" its stores across both brands.
The luxury retailer Harrods has announced it is cutting up to 680 jobs due to the impact of the coronavirus.
In an email to staff, managing director Michael Ward said Harrods was slashing up to 14% of its workforce of 4,800 people.
Lost customers
He wrote: "With a heavy heart, today I need to confirm that due to the ongoing impacts of this pandemic, we as a business will need to make reductions to our workforce."
He said it would take a "drastic improvement in external conditions" for Harrods to recover and return to growth.
"The necessary social distancing requirements to protect employees and customers is having a huge impact on our ability to trade, while the devastation in international travel has meant we have lost key customers coming to our store and frontline operations," he added.
Mr Ward said the job cuts would come "in parts of the business that have been most affected by the challenges of lockdown".
Arcadia, owned by billionaire Philip Green, said 500 of its 2,500 head office workforce would be cut.
"Due to the impact of Covid-19 on our business including the closure for over three months of all our stores and head offices, we have today informed staff of the need to restructure our head offices," the company said.