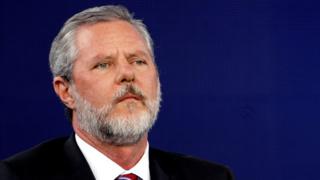 The influential head of a major evangelical college has resigned after allegations about his private life.
Jerry Falwell Jr took a leave of absence earlier this month after posting a photo of himself with trousers unzipped on Instagram.
Further scandals have since emerged, including someone who claimed to have had a sexual relationship involving Mr Falwell Jr and his wife.
Mr Falwell Jr has now resigned as president of Liberty University.
A prominent supporter of US President Donald Trump, he took over at the college after the death of his father, Jerry Falwell.
Mr Falwell Sr founded the university in the 1970s as well as the conservative Moral Majority movement.