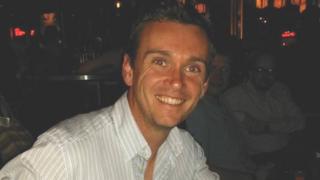 A "kind-hearted" children's author and parish councillor shot at his home in Hampshire has died.
James Nash suffered serious head injuries in the attack at Upper Enham, near Andover, on Wednesday afternoon.
The suspect, a 34-year-old man, died in a police chase after trying to flee on a motorcycle.
Hampshire Constabulary confirmed Mr Nash died in hospital in the early hours and the investigation was being treated as murder.
A 40-year-old woman was also assaulted during the attack and suffered minor injuries.
'Shock and grief'
According to the Andover Advertiser, Mr Nash's mother Gillian Nash said: "Very sadly I have to tell you that James Nash died of his brutal injuries today.
"His father, his sister and I are in a total state of shock and grief.
"We have lost a beautiful, talented son and brother and I know all who knew him would say he was the kindest, most caring person."
Tributes have been sent from friends and colleagues of the writer and parish councillor, who represented the village of Enham Alamein.
Phil North, leader of Test Valley Borough Council, posted on Facebook: "This is such devastating news, not just for his family and friends who will obviously miss him terribly, but for the whole community of Enham Alamein where he was a public representative.
"He was such a kind-hearted individual and a proactive parish councillor who cared deeply for his community."
He added: "As a talented children's author and illustrator, I was extremely touched last year when one of the dedications in his latest book was to my newborn daughter, Eleanor-Ivy Mae.
"We will always treasure our copy."
Claire Porter from Chapter House Books, in Sherborne, Dorset, where Mr Nash went to school, said he would always pop in when visiting family.
She said: "He was a really nice guy who was brave enough to follow his dream of being a professional artist, then children's author after a successful career in the aerospace industry.
"He was so proud when he published his first book Winter Wild in 2016 and then came into the shop to give a reading in December 2017. "
At the scene, Allen Sinclair, South Today
"A low-key but considerable police presence remains this morning, close to the isolated and picturesque cluster of cottages where the murder investigation is concentrated.
Some homes, drives and gateways are sealed off by police tape.
Further along, the lane itself is cordoned off, with two officers preventing people from approaching. About 100m up the road, forensic officers appear to be gathering evidence.
People living in the area have declined to talk about what has happened. But tributes to James Nash have begun appearing on social media, as news of his death spreads. "
North West Hampshire MP Kit Malthouse described the fatal shooting in MacCallum Road as "tragic and profoundly sad news".
"James's family will be devastated and they are in all our thoughts tonight," he said in a post on Facebook.
The suspect – named in reports as Alex Sartain – is believed to have initially fled the scene on foot before trying to get away on a motorbike.
He then fatally crashed on an A-road about three miles away from the shooting site after officers gave chase.
Police said they "do not believe there are any outstanding suspects in this investigation" and the force has made a mandatory referral to the Independent Office for Police Conduct.
According to his website, Mr Nash was resident artist at The Hawk Conservancy Trust, and co-founder of the Society of Natural History Artists.