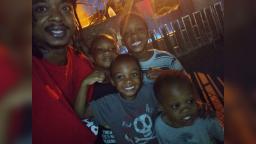 Jacob Blake, a 29-year-old Black father, was shot by police Sunday afternoon in Kenosha, Wisconsin.
Family attorney Ben Crump said Blake was trying to break up a fight before the shooting, which was captured on video by a bystander.
Just after 5 p.m. Sunday, officers responded to a domestic disturbance call in the city of 100,000 located on the Lake Michigan shoreline between Chicago and Milwaukee.
It's unclear who called 911 or what happened before video of the shooting begins. In a police call, a dispatcher says Blake "isn't supposed to be there," and that he took a complainant's keys and refused to leave. The dispatcher later explains she doesn't have more details because the caller was "uncooperative."
Crump — who also represents many families whose loved ones were shot by police — said Blake was leaving the scene after "breaking up a fight between two women."