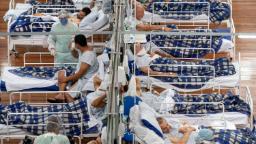 The press conference in Brasilia came hours after the FDA announced its decision, saying hydroxychloroquine and chloroquine are unlikely to be effective in treating Covid-19 based on the latest scientific evidence.
"The studies referenced by the FDA today cannot be used as examples for Brazil or for the rest of the world," Mayra Pinheiro, a Health Ministry official said during the press conference.
"Our duty is to save lives with the only medication that has been proven clinical evidence to work and which has shown good results in various circumstances in Brazil."
Hydroxychloroquine had been frequently touted by US President Donald Trump, who claimed to be taking it himself as a preventative measure, despite pleas from scientists to let studies decide if the treatment worked or not.
But Pinheiro on Tuesday dismissed the studies cited by the FDA, claiming that the "quality of their methodology is terrible."
She also said, without presenting any evidence, that coronavirus cases in Brazil had gone down since May 20, when the Health Ministry approved new guidelines allowing the use of chloroquine and hydroxychloroquine for all patients displaying mild, moderate and severe Covid-19 symptoms if both doctor and patient agree on the use of the drugs.
The Brazilian Society of Pediatrics issued guidance last month, advising hydroxychloroquine or chloroquine only be prescribed to children during controlled clinical trials and with the consent of an adult. There isn't enough data to prove hydroxychloroquine or chloroquine were safe or efficient for children and teens, the group said.
The World Health Organization is still reviewing the use of hydroxychloroquine in its Solidarity Trial, a multi-country clinical study of Covid-19 treatment options. But a trial in the United Kingdom, called the Recovery Trial, recently announced plans to stop using hydroxychloroquine in its study due to there being "no evidence of benefit," according to the researchers.
Brazil has suffered the second most-deadly coronavirus outbreak in the world, while its populist leader Jair Bolsonaro has frequently downplayed the severity of Covid-19 and has criticized lockdown measures.
Reporting contributed by CNN's Jacqueline Howard.