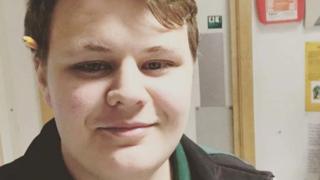 The UK and the US have agreed to amend an "anomaly" that allowed Harry Dunn death suspect Anne Sacoolas to claim diplomatic immunity.
A court hearing last month heard the "secret agreement" permitted Mrs Sacoolas to return to America after the 19-year-old's death last August.
He was killed in a crash near RAF Croughton, Northamptonshire.
Speaking to the Press Association (PA), Harry's mother Charlotte Charles said the change was a "huge step forward".
She said the family's campaign for Mrs Sacoolas – the wife of a US intelligence official at RAF Croughton – to return to the UK would continue.
Under the changes, relatives of US staff at the air base can face criminal prosecution where they may previously have been immune.
Northamptonshire Police said it understood the changes would not be retrospective but welcomed the move.
Foreign Secretary Dominic Raab said the new arrangements had "closed the anomaly that led to the denial of justice in the heartbreaking case of Harry Dunn".
"The new arrangements mean it could not happen again," he said.
He said he appreciated the changes "won't bring Harry back" but hoped they may "bring some small measure of comfort" to his family.