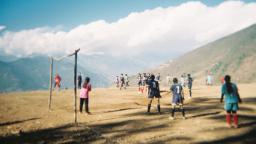 Updated 1:02 PM ET, Tue June 9, 2020
Mingma Tenzing K.C. is a 25-year-old English teacher who has recently completed a two-year fellowship program with Teach for Nepal at a school in Bhotenamlang, a remote village in mountainous Sindhupalchok, one of the least developed districts in Nepal.
Schoolgirls in the area often drop out of education to marry and become housewives. "Child marriage is just out there," he tells CNN Sport. "The girls have so much pressure in their homes, they work so much, it's hard to describe it."
A football fanatic, Mingma overcame much opposition to form a girls' football team at his school and recently organized a football tournament for girls from Bhotenamlang and nearby villages.
With makeshift goalposts on a dusty pitch, the girls competed 2000m above sea level before enthused villagers and school friends, which Mingma captured on a disposable camera provided by global photography project Goal Click. The results are captivating.