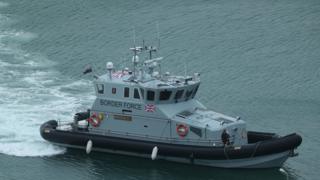 The UK coastguard is coordinating a search-and-rescue operation after several boats of migrants crossing from France were spotted in the Channel.
Two Border Force vessels, the Dover lifeboat and a Coastguard aircraft are working alongside French authorities.
It is thought up to 200 migrants tried to cross the Channel on Sunday.
Home Secretary Priti Patel said the number of crossings were rising despite the efforts of the UK and France and "simply cannot be allowed to go on".
She announced that the two countries had signed a deal on immigration and border management to establish a joint intelligence unit to "crack down on the gangs behind this vile people smuggling operation".
Ms Patel was speaking after a visit to Calais to discuss the "new operational approach" with the recently appointed French Interior Minister Gerald Darmanin.
More than 2,400 people have crossed the English Channel from France in small boats this year.
BBC South East reporter Simon Jones said it was unclear how many of the 200 who attempted to cross on Sunday made it to England.
The highest number so far to get to the UK in a single day is 166, at the start of last month.
Ms Patel said: "Despite all of the action taken by law enforcement to date – intercepting the boats, making arrests, returning people to France and putting the criminals responsible behind bars – the numbers continue to increase."
One of Mr Darmanin's first moves in his new role was to order the dismantling of several makeshift camps and move hundreds of migrants out of Calais.
On Saturday, 21 migrants in three boats were brought back to France – including four in a boat that capsized who were suffering from severe hypothermia.
And the Home Office confirmed that six migrants were detained by police in Dover after arriving in a small boat and handed over to immigration officials.
A note on terminology: The BBC uses the term migrant to refer to all people on the move who have yet to complete the legal process of claiming asylum. This group includes people fleeing war-torn countries, who are likely to be granted refugee status, as well as people who are seeking jobs and better lives, who governments are likely to rule are economic migrants.