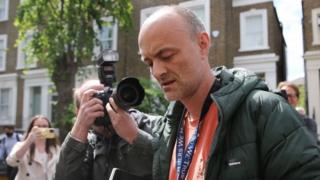 UK Prime Minister Boris Johnson has given his full backing to his most senior adviser, Dominic Cummings, after he was accused of breaking lockdown rules.
Mr Johnson said Mr Cummings acted "responsibly, legally and with integrity" and that he acted "with the overwhelming aim of stopping the spread of this virus".
What are the claims?
We know the PM's chief aide drove 260 miles from his London home to his parents' estate in County Durham at the height of restrictions in March.
But allegations in the Observer and Sunday Mirror said the former Vote Leave boss did not stay indoors while in Durham, and also, that he made another trip there after returning to London in April.
What are the key dates?
23 March: The prime minister tells the UK public they "must stay at home". People are warned not to meet friends or family members they do not live with. Those with symptoms had already been told to self-isolate
27 March: Boris Johnson and Health Secretary Matt Hancock test positive for coronavirus, while chief medical officer Chris Whitty says he has symptoms of the disease and is self-isolating. Mr Cummings is seen leaving No 10 Downing Street. Transport Secretary Grant Shapps later tells the BBC's Andrew Marr that his "understanding" was the chief aide travelled to Durham on 27 or 28 March
30 March: No 10 says Mr Cummings is self-isolating at home with coronavirus symptoms
31 March: Police in Durham are "made aware of reports that an individual had travelled from London to Durham and was present at an address in the city". The force adds that the following morning an officer spoke with Mr Cummings' father at his own request, and he confirmed his son had travelled with his family to the North East and was "self-isolating in part of the property". It says the force "deemed that no further action was required. However, the officer did provide advice in relation to security issues"
5 April: An unnamed neighbour tells the Daily Mirror and the Guardian that Mr Cummings was seen in his parents' garden. "I got the shock of my life as I looked over to the gates and saw him," they say. The Guardian later approaches Downing Street about this and is told: "It will be a no comment on that one"
9 April: The government gives its "full support" to police forces warning people to stay at home and not visit tourist spots during the Easter Bank Holiday weekend or face fines
12 April: Mr Cummings visits Barnard Castle, 30 miles from his parents' home in Durham, according to The Observer and Mirror. On Sunday, the prime minister did not deny this, when given the opportunity to do so, but said some of the press reports about Mr Cummings' movements were "palpably false". Retired teacher Robin Lees, who says he saw someone who "looked like" Mr Cummings at Barnard Castle – and jotted down his number plate – has filed a complaint to the police about the No 10 aide breaking lockdown
14 April: Mr Cummings is photographed at Downing Street for the first time since 27 March
19 April: Five days after being in London, Mr Cummings is seen again in Durham by an unnamed witness, The Observer and Mirror reports on Sunday. Downing Street says this is "false"
What has Mr Cummings said?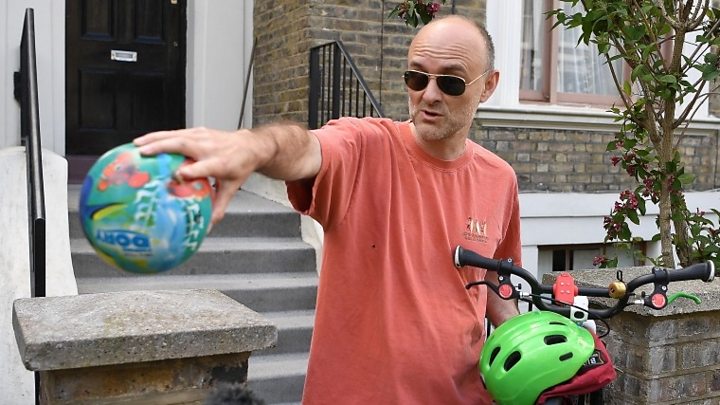 Speaking to reporters outside his home in London on Saturday morning, he said he had done the "right thing" by travelling with his wife and young son to be near relatives when she developed Covid-19 symptoms at the end of March.
When asked whether his trip to Durham "looked good", he said: "Who cares about good looks? It's a question of doing the right thing. It's not about what you guys think."
Asked later on Saturday whether he would reconsider his position, he said: "Obviously not."
He added: "You guys are probably all about as right about that as you were about Brexit: do you remember how right you all were about that."
What has Boris Johnson said?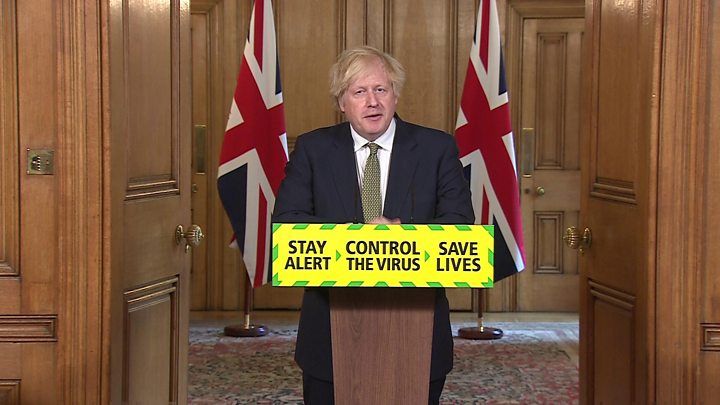 Mr Johnson told the daily Downing Street briefing on Sunday that he had held "extensive" face-to-face talks with Mr Cummings to discuss the situation.
"I've concluded that in travelling to find the right kind of childcare at the moment when he and his wife were about to be incapacitated by coronavirus – and when he had no alternative – I think he followed the instincts of every father and every parent, and I do not mark him down for that," the PM said.
He added: "I believe that in every respect he has acted responsibly, and legally and with integrity and with the overwhelming aim of stopping the spread of this virus and saving lives."
How has No 10 responded?
Downing Street issued an initial statement about the Durham trip, saying Mr Cummings made the journey fearing both he and his wife would be unable to properly care for their four-year-old son.
"His sister and nieces had volunteered to help so he went to a house near to but separate from his extended family in case their help was needed. His sister shopped for the family and left everything outside," the statement said.
Downing Street said no member of Mr Cummings' family was spoken to by police, although Durham Constabulary later said officers had spoken to his father by phone.
A further No 10 statement addressing allegations in the Sunday papers about a second visit to the North East was issued on Saturday night.
"Yesterday the Mirror and Guardian wrote inaccurate stories about Mr Cummings," it said.
"Today they are writing more inaccurate stories including claims that Mr Cummings returned to Durham after returning to work in Downing Street on 14 April. We will not waste our time answering a stream of false allegations about Mr Cummings from campaigning newspapers."
What are others saying?
Daily Mirror political editor Pippa Crerar told the BBC on Sunday the paper stood by its reporting.
Labour leader Sir Keir Starmer called for a Cabinet Office inquiry, saying Mr Johnson had "failed a huge test" in not sacking Mr Cummings and was "treating the British public with contempt".
He also said he would have sacked the chief adviser if he had been prime minister.
Shadow home secretary, Nick Thomas-Symmonds has also written to Home Secretary Priti Patel to raise concerns about the implications for policing after the PM's statement, saying the rules have been "thrown in to confusion".
Both the SNP and Liberal Democrats have said Mr Cummings should go, and have also written to the Cabinet Secretary, Sir Mark Sedwill, calling for an investigation.
Scotland's First Minister and leader of the SNP Nicola Sturgeon said she believed Mr Cummings should step down in a similar way to Scottish chief medical officer Catherine Calderwood, who resigned after visiting her second home.
She said Mr Johnson was "putting his political interest ahead of the public interest", and the consequences on the public health message "could be very serious".
A number of Bishops took to Twitter after Mr Johnson's Sunday press conference, calling for Mr Cummings to go.
And some members of the government's Scientific Advisory Group for Emergencies (SAGE) – who are advising the government on how to tackle the coronavirus pandemic – have also criticised the response to the senior adviser's actions.
So far, 19 Conservative MPs have said publicly that Mr Cummings should resign or be sacked, according to BBC Research.
Simon Hoare, who sits on the Liaison Select Committee – which is due to question the prime minister later this week – told BBC News he "respectfully disagreed" with Mr Johnson's decision, and said there had been a "slightly cavalier attitude" despite the "fury" of the public.
Meanwhile, several Tory MPs have also tweeted to their constituents after receiving letters and emails about the PM's decision to back Mr Cummings, saying they should "rest assured" that they have "conveyed the strength of local feeling robustly to relevant colleagues" in government.
The majority of the party's MPs have not commented.
Many members of the cabinet, including Health Secretary Matt Hancock and Chancellor of the Exchequer Rishi Sunak, tweeted their support for Mr Cummings on Saturday, but have not tweeted since.
Education Secretary Gavin Williamson said on Monday morning that Mr Cummings had "set out absolutely clearly and absolutely categorically he didn't break the rules and didn't break the law".
He said because of the assurance given to the prime minister that neither the guidance nor the law had been broken, it "seems fair to support that person".