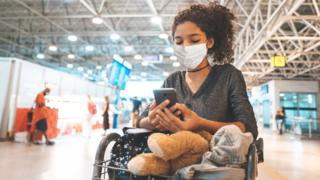 Passengers entering the UK from dozens of countries may no longer have to quarantine.
The list of destinations will be announced shortly and will come into effect on Monday, government sources have indicated.
However, each UK nation sets its own quarantine rules, so they may be relaxed for some parts of the UK but not others.
Where will I be able to go without quarantining?
It's thought that travellers from up to 75 countries will no longer have to quarantine when they enter the UK.
This list of countries is likely to include those considered low risk.
This change could make it easier for Britons to go abroad on holiday, or see relatives. It could also boost the UK tourism industry, which has been devastated by coronavirus and has opposed quarantine rules.
However, it is likely that Britons will still face restrictions – including quarantine – when they arrive in some other countries.
Greece, a popular holiday destination with a low number of coronavirus deaths, says it will not accept direct UK flights until at least mid-July.
Austria requires Britons to self-isolate unless they have a recent medical certificate or test negative for coronavirus on arrival, while France has brought in a voluntary quarantine in response to the UK's measures.
New Zealand has barred almost all foreign travellers from visiting, while those entering Australia require a special exemption visa and face a mandatory quarantine,
Also, because health measures like quarantine are set by each UK nation separately, the changes may not apply everywhere.
In particular, the Scottish government says it has not made a decision on whether to ease quarantine restrictions.
What happens if I travel to a country not on the list?
Travellers entering or returning to the UK from a country not on the list of 75 countries are likely to have to quarantine for two weeks.
These classifications won't be set in stone – if coronavirus cases rise or fall in another country, they could be changed.
Equally, further restrictions may be placed on UK travellers if its infection rate rises.
What happened to air bridges?
Ministers had indicated the government was considering a series of "air bridge"agreements. These would allow people to travel between the UK and low-risk countries without having to quarantine at either end.
These were also referred to as "travel corridors" when including international journeys made via land and sea.
However, the government appears to have moved away from these partnerships, which could have posed problems in practice.
For example, Portugal was the first country to offer the UK an air bridge but has recently seen a rise in new coronavirus cases around Lisbon.
Because of coronavirus, the government has advised against all but essential international travel since 17 March.
On 8 June, a two-week quarantine period was introduced for most people arriving in the UK. The government said imported cases had become a more significant risk to public health.
Both of these policies are currently being reviewed.