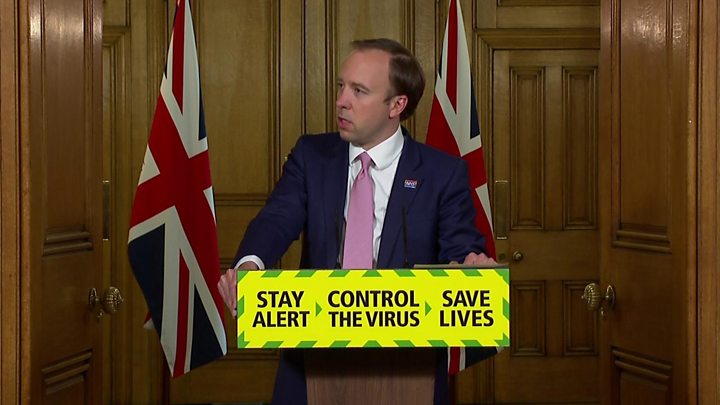 The UK's coronavirus death toll has passed more than 40,000, according to the latest government figures.
A total of 40,261 people have died in hospitals, care homes and the wider community after testing positive for the virus, up 357 from Thursday.
The UK is only the second country – after the US with 108,000 deaths – to pass the grim milestone.
In March, the UK's chief scientific adviser said limiting deaths to 20,000 would be a "good outcome".
At the daily Downing Street briefing BBC health editor Hugh Pym asked about this assessment, to which Health Secretary Matt Hancock replied that it had been "a time of sorrow for us all".
Each death represents "a family that will never be the same again", he said, adding: "My heart goes out to them all and it makes me redouble my determination to deal with this virus."
Also at the briefing:
Mr Hancock appealed to people not to attend large demonstrations with more than six people, saying he was "appalled" by the killing of George Floyd in the US but "coronavirus remains a real threat"
All hospital visitors and outpatients will have to wear face coverings and all staff will have to wear surgical masks at all times, in all areas, the health secretary said
He also urged people who had recovered from coronavirus to donate their blood plasma to help a research trial
'We love and miss him so much'
The BBC has been collecting the personal stories of some of the families who have lost loved ones since the UK recorded its first coronavirus death three months ago – like that of Adam Brown, a 30-year-old with learning disabilities who died on 29 April.
"Despite the wonderful doctors', nurses', consultants' best and desperate efforts, even going over and above to save our son's life, Adam died alone and afraid, from the coronavirus," said his mother, Maureen.
"We love and miss him so much, as our whole lives have always revolved around him."
Behind the US and the UK with the highest reported coronavirus deaths, are Italy, previously Europe's worst-hit country, with 33,600 deaths, and Brazil, where more than 34,000 people have died.
But experts have warned full global comparisons may take months, with countries using different methods to calculate the death toll.
Friday's UK death toll represented only one of the ways the government counts coronavirus deaths, focusing on people who have died after a positive Covid-19 test.
Figures published by the UK statistics agencies on Tuesday show an even higher toll.
Up to the week ending 22 May, 48,106 people had died in the UK with Covid-19 mentioned on their death certificate.
The crisis may have contributed to a greater loss of life from other causes too, with 61,895 more deaths recorded than would be expected for this time of year, between the beginning of the outbreak and 22 May.
The Office of National Statistics has said this may be due to a delay in care for other conditions, such as dementia, asthma and diabetes. Others may be unidentified coronavirus cases, it said.
Elderly worst affected
The UK's population of older people has been worst affected by Covid-19, with over-80s being 70 times more likely to die than people under 40.
Concerns have also been raised over the impact on ethnic minority communities, with people with Bangladeshi ethnicity more than twice as likely to die from coronavirus than white Britons, taking age and sex into account.
But the death rate is falling, with the most recent review of death certificates showing the lowest number of coronavirus-related deaths since March.
And a national survey suggests the number of people infected with coronavirus in England has fallen, from 8,000 a day last week to 5,600 a day.