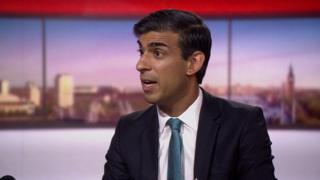 People should feel confident that it is safe to go shopping when non-essential shops reopen in England on Monday, Chancellor Rishi Sunak has said.
Retailers have taken "extraordinary steps" to make sure environments are safe after the coronavirus pandemic, he told the Andrew Marr Show.
New screens, social distancing and store limits will all help create a safe shopping environment, he said.
"All of that will mean people can feel safe when they go about this," he said.
While food shops and pharmacies, as well as other retailers selling essentials have been open throughout the lockdown, non-essential stores such as book shops and clothes shops have been shuttered since 23 March.
Mr Sunak said that the five tests for easing restrictions outlined by Prime Minister Boris Johnson were being met.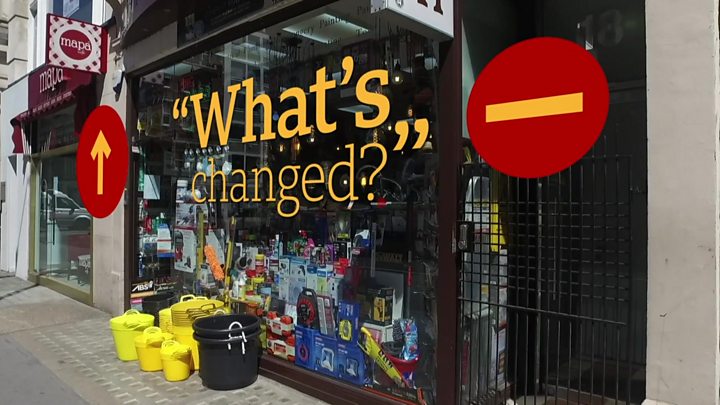 These include a falling death rate, a "manageable" rate of infection, and a low risk of a second peak of infections.
"I know that shops up and down the country are desperate to welcome us all back and I think we all want to see our high streets spring back to life again," he said.
However, more than half of UK customers expect they will now go shopping less often over the next one or two years, according to a survey of more than 1,000 people by accountancy giant EY.
And the British Retail Consortium (BRC), the trade body for retailers, is urging the public to "play their part" in making shopping safer. Along with 25 other retailers, it says customers should follow five steps:
Queue considerately
Maintain social distancing
Follow instructions inside and outside shops
Follow all necessary hygiene measures
Be respectful to shop staff
Retailers can open as long as they follow safety guidelines. If they don't, they could face enforcement notices.
But pubs, bars, restaurants and hairdressers will not be able to reopen until at least 4 July.
Perspex screens at the tills and floor markings to keep shoppers 2m (6ft 5ins ) apart are likely to feature in newly reopened stores.
Shops may also ask customers to set aside items they have touched so that they can be quarantined.