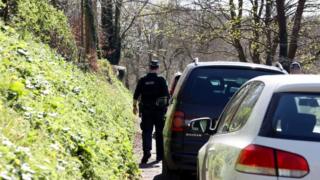 The PSNI will focus enforcement action in so-called "hotspot areas" to curb the spread of coronavirus, Robin Swann has said.
Stormont's health minister made the announcement as he outlined new restrictions in response to a rise in cases.
From next week, indoor gatherings will drop from 10 to six people and outdoor meetings from 30 to 15.
Fifty-one new cases were reported on Thursday, with NI's total now at 6,556.
No further deaths have been recorded by the department, meaning its death toll remains at 559.
Meanwhile, two medics who work in the Respiratory Emergency Department (ED) at Craigavon Area Hospital have tested positive for Covid-19.
According to the Southern Health Trust, as a precaution, any other members of staff who have been in close contact with the confirmed cases are being tested and are currently at home isolating.
"At this stage, it is understood that the infection may have transferred in a social setting not within the ED," a spokesperson said.
They added that the public is not thought to be at risk as staff wear full PPE at all times. The ED remains open.
Districts 'with sharp Covid prevalence'
The executive met on Thursday to review the coronavirus regulations and Mr Swann had warned that in response to a ten-fold rise in cases since the beginning of July, restrictions would need to be re-imposed.
He announced that while the PSNI has been using enforcement as a last resort, certain council areas that have been experiencing a rise in cases need more attention.
"I believe it is particularly important in those districts which have seen sharp spikes in Covid-19 prevalence," he told a news conference at Stormont.
He cited Mid and East Antrim, which has seen cases rise in part due to a cluster of at least 35 cases in a meat plant in Cullybackey.
PSNI Ass Ch Con Alan Todd said the approach of police to date during the pandemic was "engage, explain, encourage and enforcement with any emphasises on enforcement being fully considered with all our partners".
He added: "With the changing picture in relation to Covid-19 we will continue to work closely with the Department of Health and other partner agencies to inform the most effective policing approach to keep people safe including enhanced resources in those areas identified as a priority."
Chief Medical Officer Dr Michael McBride said there needed to be "right-touch, not light-touch" enforcement.
"People want to do the right thing but sometimes we all need to be reminded about that," he said.
Dr McBride also said the seven-day rolling average of Covid-19 cases in Northern Ireland is now at "40 per day", which is a ten-fold increase from the end of June.
At Thursday's press briefing, Mr Swann also announced new restrictions on the numbers of people allowed to meet together in Northern Ireland.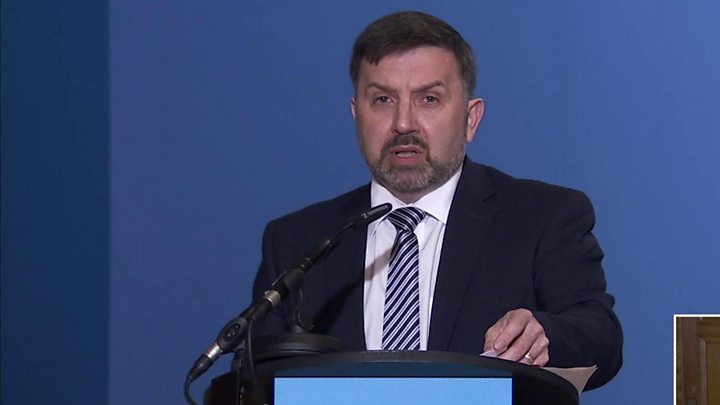 Indoor gatherings in private houses will be reduced from 10 people from four different households to six people from two different households, and outdoor gatherings, including in a private garden, from 30 to 15 people.
The measure will come into force sometime next week.
The Executive Office said the limits on people meeting outdoors would not apply to certain events.
Weddings, church services – including funerals and baptisms – and sporting events can take place with more than 15 people present, where a risk assessment has been carried out and hygiene measures are in place.
Research by health officials suggested that the rise in community transmission was mainly from "households and house parties", said the minister, which he said had also been replicated in parts of England and the Republic of Ireland.
Mr Swann also said the R-number in Northern Ireland is likely to be estimated at 1.3 at present.
This is slightly down from last week when the department indicated the reproduction number to be between 1.2 and 2.0.
R represents the number of individuals who, on average, will be infected by a single person with coronavirus.
Dr McBride said the executive was also unable to make any more easements at this time, regarding the remaining coronavirus restrictions.
Northern Ireland's R number
The health minister did not announce details of localised lockdowns in any part of Northern Ireland.
Earlier, the Public Health Agency (PHA) said local lockdowns were "inevitable" if efforts were not taken to halt the virus spreading.
Dr Gerry Waldron said Covid-19 had been spreading much quicker than the PHA expected after restrictions were eased earlier in the summer.
He said: "If things continue as they are going, I think it's [local lockdown] practically inevitable, but hopefully people will take heed of the issue."
Northern Ireland's rate currently shows 24 cases per 100,000 over the past 14 days, evidence that points to the virus spreading again, health officials have said.
In the Republic of Ireland, lockdown measures which had previously been lifted have been reversed – with restrictions placed on the numbers allowed to gather in indoor and outdoor spaces.
Indoor gatherings – excluding shops, restaurants and other businesses – are to be restricted to six people.
Those aged over 70 are again being asked to stay at home as much as possible, and it is recommended that people work from home and avoid public transport.
On Thursday, the Republic of Ireland's Department of Health recorded one additional death from the virus and an additional 136 additional cases.
There have now been 1,776 Covid-19 related deaths in the country and 27,676 confirmed cases.
The R rate in the Republic of Ireland is believed to currently be at or above 1.2.