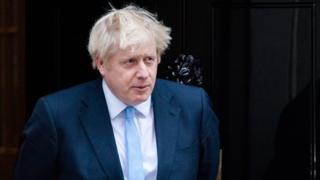 The prime minister has pledged his government will "not go back to the austerity of 10 years ago" ahead of a speech on Tuesday.
In an interview with the Mail on Sunday, Boris Johnson set out his plans for a post-lockdown economic recovery.
They will include a new taskforce which will look at speeding up the building of hospitals, schools and roads.
But Labour has accused the government of "pulling the rug from under" many parts of the economy.
The economy shrank by 20.4% in April – the largest monthly fall on record.
Amid continued criticism of the way his government has handled the pandemic, the PM told the paper that ministers will be "doubling down on levelling up" – spending on infrastructure in order to "build our way back to health".
"We're going to make sure that we have plans to help people whose old jobs are not there any more to get the opportunities they need," he said.
"We are absolutely not going back to the austerity of 10 years ago."
In the Mail on Sunday article, the PM said the country would "bounce back" from the coronavirus crisis. He reinforced his message by doing press-ups to show he is "fit as a butcher's dog", following intensive care treatment for the virus in April.
'Thatcher levels of unemployment'
An Infrastructure Delivery Taskforce, led by Chancellor Rishi Sunak, aims to help to remove "bottlenecks" faced by major projects.
No 10 hopes a building boom will boost jobs and improve connectivity for cities, towns and villages.
But new House of Commons Library analysis, commissioned by the Labour Party, suggests that unemployment levels could soar to levels not seen since the 1980s – tipping past the peak of 3.3 million seen in 1984 under Margaret Thatcher, the Observer reports.
Shadow business secretary Ed Miliband warned of such "Thatcher levels of unemployment" if sectors, such as hospitality, cannot fully reopen.
He accused the government of "pulling the rug from under" many parts of the economy by telling firms they will have to start paying towards the furlough scheme from August, before it closes entirely in October.
Mr Miliband told the BBC's Andrew Marr Show there needed to be a bridge between the end of the furlough scheme and a job creation programme.
He also criticised the government for not announcing a summer Budget this year when the UK is facing potentially the worst recession in 300 years.
Addressing reports that the PM wants to help areas previously affected by austerity, Mr Miliband replied: "There's a grand canyon between his rhetoric and the reality."
---
Boris Johnson has faced serious criticism for the way his government has handled the coronavirus outbreak – and questions are likely to continue as ministers look to ease the lockdown in England.
But evidently keen to try and get his wider political agenda back on track, the prime minister is returning to the phrase that was so frequently used in last year's general election campaign – "levelling up".
It means spending on infrastructure – schools, transport and the NHS.
So, how will these big projects be paid for?
With billions already spent to support the economy during this pandemic, borrowing, big time, seems on the cards.
---
The number of workers on UK payrolls dived by more than 600,000 between March and May, official figures suggest, with economists warning the full effect on employment will not be felt until wage support schemes end.
Almost nine million workers who are unable to do their job because of the pandemic have had their wages paid by the government under its furlough scheme.
In a major easing of England's lockdown, the PM announced on Tuesday that pubs, restaurants and hotels were among the list of venues that would be allowed to reopen from 4 July.
But the announcement was criticised by some businesses – such as indoor gyms – that were not included on the list.
Sir Jeremy Farrar, a member of the government's Scientific Advisory Group for Emergencies (Sage), said there could be a "very nasty rebound" of coronavirus in the winter if the country does not use the next few months "sensibly".
Sir Jeremy told the BBC's Andrew Marr Show: "We're on a knife edge, it's very precarious the situation, particularly in England at the moment, and I would anticipate we would see an increase in new cases over the coming weeks."
Addressing the concerns raised by the director of the Wellcome Trust, Home Secretary Priti Patel told the same programme: "We have to be very conscientious about the risk of a second wave."
She said "nothing would be more damaging for our country and for our economy" than a second spike in virus cases, adding that the government's plans to ease measures are "pragmatic and responsible".
Ms Patel also encouraged people to go to pubs when they reopen next weekend, but urged customers to "be responsible" and follow social distancing and hygiene guidance.
Meanwhile, Leicester may be facing a localised lockdown after a rise in coronavirus cases, Ms Patel confirmed.
It comes after Leicester East MP Claudia Webbe called for new restrictions to be introduced amid concerns of a spike in cases locally. She describes a "perfect storm" of high poverty, higher numbers of positive tests and higher ethnic diversity in the area.
Leicester's mayor Sir Peter Soulsby said the city has been given latest government data which should show which areas – if any – are being "adversely affected" by the virus. Lockdown measures might then have to be introduced, he added.
The Department of Health said it was supporting the local council and four mobile testing sites have been set up there.
---
How have you been affected by coronavirus? How have you been affected by the lockdown? Share your experiences by emailing haveyoursay@bbc.co.uk.
Please include a contact number if you are willing to speak to a BBC journalist.