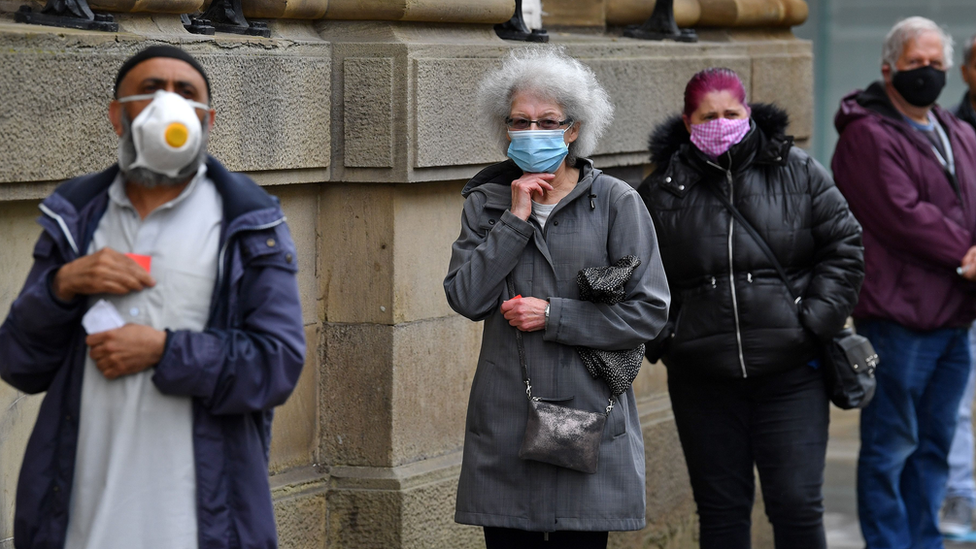 Residents in Oldham, and parts of Blackburn and Pendle can no longer socialise with other households under new measures introduced to stem the spread of coronavirus.
The new rules came into place at midnight after a rise in cases.
Workplaces, childcare facilities and businesses, including pubs and restaurants, will remain open.
Oldham Council said it had more enforcement capacity to take action against people breaking the rules.
Leader Sean Fielding said the council had closed one pub in the last 24 hours.
Since July, the government has been introducing extra restrictions in parts of northern England after a spike in coronavirus cases.
The extra measures announced on Friday for Oldham, and parts of Blackburn and Pendle will not prevent people from shopping, going to work or attending schools, which open from 1 September.
However, any social activities indoors and outdoors can only be done with people in their household.
Councillor Fielding welcomed the announcement the town would not face business closures.
But he warned the authority now had the power to take action when the rules are broken.
He said: "Part of our discussions with government to avert an Leicester-style economic lockdown was a pledge around increasing the capacity in our enforcement teams, so that we could take action where we had reports of businesses or premises or households not following the rules.
"So when we receive those reports we now have additional capacity around enforcement and compliance to take action, whether it's fines, whether it's closure orders or whatever."
Mr Fielding said the council has enlisted celebrities such as Pakistan cricket captain Azhar Ali, who is currently playing in a Test Match series against England, and The Inbetweeners actor James Buckley "to get the message out to communities that might listen to [them] rather than listen to me."
"We are also doing some really targeted intervention in our most affected communities, and that includes things like door-to-door testing, using community leaders to get messages over."
Earlier this week, the council shared a clip of Game Of Thrones actor James Cosmo warning residents that "lockdown is coming" unless they abide by guidelines.
Cosmo, who played Jeor Mormont, Lord Commander of the Night's Watch, told residents to "stay safe and follow the guidance".
Elsewhere, Birmingham has been added to the government's watch list, and Northampton named an "area of intervention".