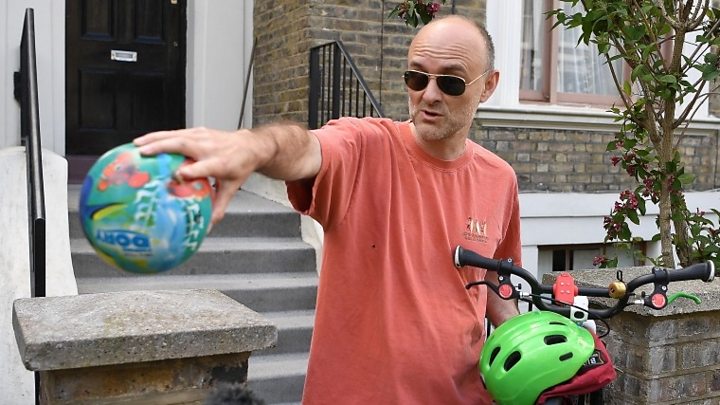 The prime minister's chief aide Dominic Cummings is facing fresh allegations that he breached lockdown rules.
He and the government had said he acted "reasonably and legally" by driving from London to County Durham while his wife had coronavirus symptoms.
But The Observer and Sunday Mirror are now reporting he was seen in the North East on two more occasions, after recovering from his own Covid-19 symptoms and returning to work in London.
No 10 said the story is "inaccurate".
Downing Street has also denied that police spoke with family members of Mr Cummings "about this matter".
But Durham Police insist their officers spoke to Mr Cummings' father, who confirmed that his son had travelled with his family from London.
Labour has called for an urgent inquiry into the allegations.
Government ministers have rallied around Mr Cummings, and have defended his conduct.
They said Mr Cummings and his wife were right to self-isolate at a property adjacent to other family members in case they needed help with childcare.
Speaking to reporters outside his home in London on Saturday morning, Mr Cummings said he would not be resigning and had done the "right thing" by travelling 260 miles with his wife and young son to be near relatives when she developed Covid-19 symptoms at the end of March.
Later that day the two newspapers revealed that witnesses have reported seeing Mr Cummings in Barnard Castle, more than 25 miles from Durham, on 12 April.
On 14 April, he was seen in London. According to a witness, he was spotted again in Houghall Woods near Durham on 19 April.
Mr Cummings is yet to publicly respond to the new claims, but the Sunday Telegraph reports he told Downing Street he left Durham on 13 April, and that the claim he made a second trip from London was "totally false".
In response to the fresh claims, Downing Street said: "Yesterday the Mirror and Guardian wrote inaccurate stories about Mr Cummings.
"Today they are writing more inaccurate stories including claims that Mr Cummings returned to Durham after returning to work in Downing Street on 14 April.
"We will not waste our time answering a stream of false allegations about Mr Cummings from campaigning newspapers."
The BBC's political correspondent Iain Watson says ministers hope questions about Mr Cummings' movements will not have dented public trust in the government's lockdown guidance.
Quit calls
Opposition parties renewed their calls for the prime minister's adviser to go.
The SNP's Ian Blackford said Mr Cummings "has to leave office", while acting Liberal Democrat leader Sir Ed Davey told BBC Radio 5 Live: "If Dominic Cummings has not been sacked by tomorrow, I think the prime minister's judgement is in serious doubt."
Government advice had been for people to stay at home during the first weeks of lockdown. Self-isolation at home continues to be advised for those with coronavirus symptoms.
However, ministers offered their support to Mr Cummings earlier in the day, with Health Secretary Matt Hancock tweeting that it was "entirely right" for the senior aide to find childcare.
Cabinet Office Minister Michael Gove tweeted: "Caring for your wife and child is not a crime."
England's deputy chief medical officer Dr Jenny Harries also said all health guidance should be applied with "common sense".
But following the fresh reports concerning the alleged second visit to County Durham, a Labour source said: "If these latest revelations are true, why on earth were Cabinet ministers sent out this afternoon to defend Dominic Cummings?"
Before the new allegations, both Labour and the SNP said Mr Cummings flouted the government's own advice and called for an urgent inquiry into his conduct.
It comes as the government announced 282 more people had died with coronavirus since Friday, across all settings, bringing the total to 36,675.
When asked by reporters outside his home on Saturday whether his travelling to Durham looked good, he said: "Who cares about good looks? It's a question of doing the right thing. It's not about what you guys think."
Asked whether he would reconsider his position, he said: "Obviously not."
PM's support
Mr Cummings masterminded the 2016 Vote Leave campaign before being made Prime Minister Boris Johnson's chief political adviser.
Speaking at the Downing Street briefing on Saturday, Transport Secretary Grant Shapps said the prime minster – who has not commented so far – had "full confidence" in Mr Cummings.
Mr Shapps will face further questions over the events when he appears on the the Sunday morning political television programmes.
The initial reports in the Guardian and the Daily Mirror newspapers quoted police saying they had spoken to a family in Durham on 31 March and about the "guidelines around self-isolation and reiterated the appropriate advice around essential travel".
A statement by Downing Street was issued on Saturday, denying that police had spoken to Mr Cummings or his family "about this matter, as is being reported".
In an updated statement on Saturday evening, Durham Police said officers learned of his trip on 31 March and spoke to Mr Cummings' father the following day.
"During that conversation, Mr Cummings' father confirmed that his son had travelled with his family from London to the North-East and was self-isolating in part of the property.
"Durham Constabulary deemed that no further action was required. However, the officer did provide advice in relation to security issues," a statement from the force said.
Durham Police and Crime Commissioner Steve White said it had been "most unwise" for Mr Cummings to make the journey, "given the whole ethos" of the government's guidance.
In other developments:
Rising costs from the coronavirus pandemic could see care homes in England "go to the wall", sector leaders have warned
People arriving in France from the UK from 8 June will have to quarantine for 14 days
The government has pledged to give £283m towards improving safety and restoring services on bus and light rail services during the pandemic