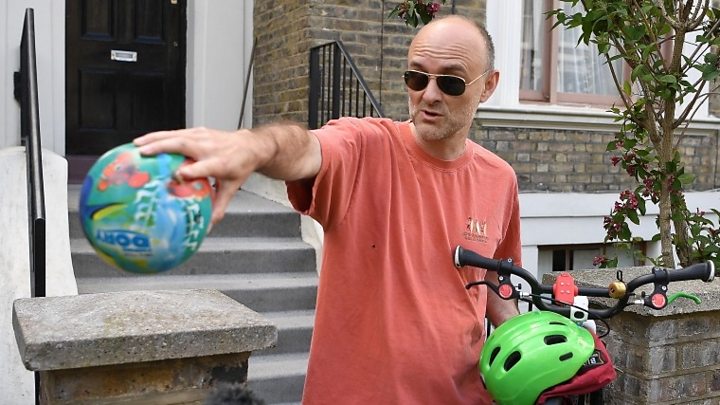 The PM's top aide Dominic Cummings says he did the "right thing" by travelling 260 miles to be near relatives during the coranavirus lockdown – adding that he did not care what it looked like.
Mr Cummings is facing calls to resign over the journey, which he made with his wife who had Covid-19 symptoms.
Downing Street said he wanted to ensure he had childcare if he got symptoms.
But Labour said that was not a satisfactory explanation and many people would be angry at his actions.
It comes as the government announced 282 more deaths from Covid-19 since Friday, across all settings, bringing the total to 36,675.
Mr Cummings told reporters he "behaved reasonably and legally" when asked about the trip from London to Durham.
Asked whether it looked good, he said: "Who cares about good looks? It's a question of doing the right thing. It's not about what you guys think."
Police said they attended a property in County Durham, after the Guardian and the Daily Mirror newspapers first reported Mr Cummings had been seen near his parents' home in early April.
Durham Police and Crime Commissioner Steve White said it had been "most unwise" for Mr Cummings to make the journey, "given the whole ethos" of the government's guidance.
In a statement, Downing Street said: "Owing to his wife being infected with suspected coronavirus and the high likelihood that he would himself become unwell, it was essential for Dominic Cummings to ensure his young child could be properly cared for.
"His sister and nieces had volunteered to help so he went to a house near to, but separate from, his extended family in case their help was needed. His sister shopped for the family and left everything outside.
"At no stage was he or his family spoken to by the police about this matter, as is being reported.
"His actions were in line with coronavirus guidelines."
'Understandable anger'
The Scottish National Party has called for Mr Cummings to quit or be fired – and has written to Sir Mark Sedwill, the head of the civil service, calling for a swift investigation into the incident.
The SNP's Westminster leader Ian Blackford said: "This is a matter of leadership and judgment for the prime minister who must prevent lasting damage to his government and his own reputation."
Labour has stopped short of calling for Mr Cummings' resignation, saying the government had questions to answer at its daily press conference.
"The lockdown rules were very clear: if you or anyone in your household was suspected of having Covid-19 you must immediately self-isolate and not leave the house," said a Labour spokesman.
"However, the prime minister's chief adviser appears to believe that it is one rule for him and another for the British people.
"This will cause understandable anger for the millions of people who have sacrificed so much during this crisis."
Analysis
By BBC Health Correspondent Anna Collinson
Let's go back to 31 March, when police were made aware of Dominic Cummings driving from London to Durham.
Strict lockdown measures had been put in place to stop the spread of coronavirus.
Guidelines said those with symptoms must stay at home for seven days, but "vulnerable individuals" could be moved to stay with friends or family.
The guidelines did not specifically mention children, but a medical advisor to the government had said during a press briefing that a small child could be considered "vulnerable".
Mr Cummings claims it was "essential" he and his sick wife drove 260 miles to be near his family in case they needed childcare. It is not known if they stopped at any service stations on their way.
The PM's chief aide says he self-isolated in a separate property to his other relatives.
At the end of March, London was the epicentre of the coronavirus crisis, while cases in County Durham were relatively low. The North East and Yorkshire now has the highest rate of infections in England.
Mr Cummings's behaviour has prompted much debate – with many parents saying they have seriously struggled during lockdown because they did not want to break the government's rules.
Mr Cummings masterminded the 2016 Vote Leave campaign to get Britain out of the European Union, and was made Boris Johnson's top political adviser, when he entered Downing Street last year.
He has attended meetings of the Scientific Advisory Group for Emergencies (Sage) – the scientific body which gives independent advice that shapes the government's coronavirus response.
Senior government members have rallied round Mr Cummings on social media, with Cabinet Office Minister Michael Gove tweeting: "Caring for your wife and child is not a crime."
It comes after other high-profile figures involved in tackling the pandemic have resigned for breaching lockdown restrictions, including Scotland's former Chief Medical Officer Catherine Calderwood and leading scientist Prof Neil Ferguson.
Dr Calderwood resigned in April after making two trips to her second home during the coronavirus lockdown.
Prof Ferguson also quit as a government adviser on coronavirus after it was reported that a woman he was said to be in a relationship with visited his home in lockdown.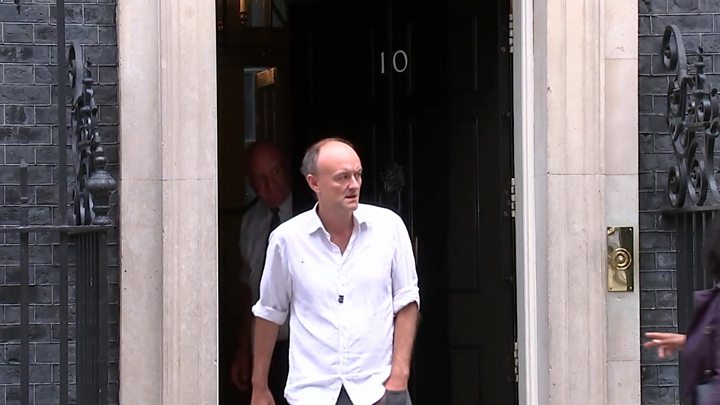 On Tuesday, 31 March, when Dominic Cummings was in Durham with his sick wife, UK government advice on essential travel included:
Not visiting second homes, whether for isolation purposes or holidays
Not leaving your home – the place you live – to stay at another home
Remaining at your primary residence, to avoid putting additional pressure on communities and services at risk
The government's essential travel advice remains in place, as does its advice on self-isolating.
On 30 March, it was reported that Mr Cummings, the former Vote Leave chief who was the architect of the PM's Brexit strategy, had developed symptoms of the coronavirus and was self-isolating at home.
His wife, journalist Mary Wakefield, described in the Spectator magazine how he collapsed and was bed-ridden for 10 days.
Durham Police confirmed officers had spoken to the owners of an address after its officers were made aware on 31 March of reports a person had travelled there from London.
A spokesman said that owners of the address confirmed the individual "was present and self-isolating in part of the house", and officers "explained to the family the guidelines around self-isolation and reiterated the appropriate advice around essential travel".
In other developments: