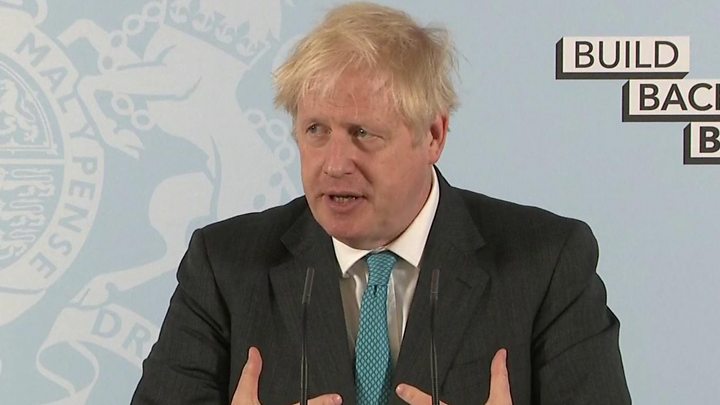 Boris Johnson has apologised and said he "misspoke" when asked to clarify details of new tighter coronavirus restrictions in north-east England.
A new rule, making it illegal for households to mix indoors, including in pubs, affects nearly two million people and comes into force at midnight.
However, confusion arose over whether this included outdoor settings such as pub beer gardens.
Labour said the PM was "grossly incompetent" for not knowing the rules.
It comes as the UK recorded 7,143 confirmed coronavirus cases in the last 24 hours, a new high since mass testing began. Deaths recorded within 28 days of a positive test also rose to 71, the highest total since 1 July.
Meanwhile, about 500,000 people in four council areas in north Wales are to face local lockdown restrictions from 18:00 BST on Thursday.
Mr Johnson was asked to clarify the rules after a junior minister was unable to do so.
When asked if people in the North East could still meet people from other households outside, such as in a pub garden, Mr Johnson said people should follow local guidance and urged them to use their common sense.
He went on to talk about the separate rule of six.
"In the North East and other areas where extra tight measures have been brought in, you should follow the guidance of local authorities – but it's six in a home, six in hospitality but, as I understand it, not six outside," he said.
On Twitter, Mr Johnson later apologised and clarified that the new law meant those in the North East "cannot meet people from different households in social settings indoors, including in pubs, restaurants and your home".
"You should also avoid socialising with other households outside," he added.
Earlier, when asked on BBC Radio 4's Today programme if people in the affected areas could meet in pub gardens, education minister Gillian Keegan said: "I'm sorry I can't clarify that.
"I don't know the answer to that question but I'm sure they can find out the answer to that question."
When pressed, she said: "I'm sorry I can't answer that question. I'm sure there are many people who could. I don't represent the North East."
'Government accused of not being in control'
The rules people are being told to follow are becoming a lot more complicated and can vary significantly in different parts of the UK.
But at the same time the government is ramping up enforcement – creating criminal offences and introducing fines for those who don't follow them.
That's why it's so important that ministers can explain to the public what the rules are and the rationale behind them. On two occasions today, the prime minister and a junior minister have been unable to do so.
Opposition parties accuse the government of not being in control and not understanding the rules it is enforcing.
But at the same time the PM is facing pressure from within his own party – with a significant bloc of Tory backbenchers demanding Parliament has more of a say when new restrictions are brought in.
They fear some of the decisions go too far – and perhaps don't make sense. The PM being unable to explain them won't help.
People who break the new law banning households from mixing indoors in north-east England, including in pubs, will be fined.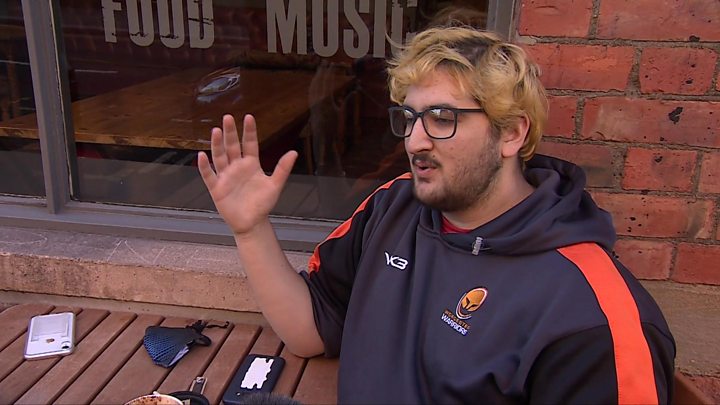 Mixing with other households in pub gardens or outdoor restaurant spaces will not be illegal, but goes against advice, the Department for Health and Social Care has said.
In areas which are not covered by extra restrictions in England, the rule of six – meaning social gatherings are limited to six people – applies in private homes, indoors and outdoors, and places such as pubs, restaurants, cafes and public outdoor spaces.
Labour deputy leader Angela Rayner said the government "needs to get a grip", adding: "These new restrictions are due to come into force across huge parts of the country tonight."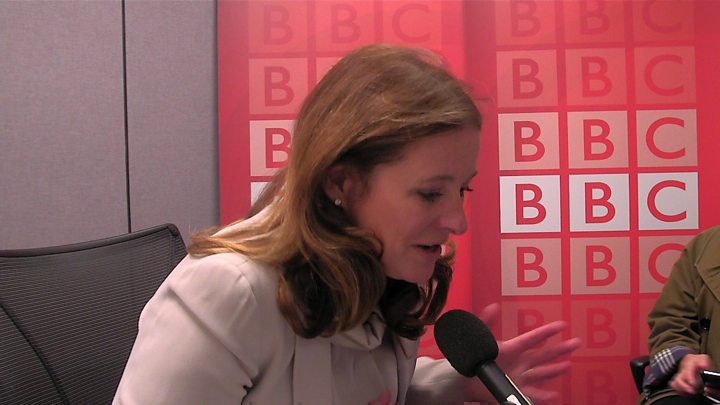 About two million people in Newcastle, Northumberland, Gateshead, North Tyneside, South Tyneside, Sunderland and the County Durham council area have already been advised to avoid mixing.
But the advice is being made subject to a law with those over 18 facing a £200 fine for a first offence -halved if paid within 14 days.
A second offence will incur a £400 fine, which then doubles for each subsequent offence – up to a maximum of £6,400.
'Complexity is becoming a real risk'
One of the key requirements of public health messaging is to create a clear idea of what steps people are expected to follow.
This was easier during spring's complete lockdown than it is now when the desire to keep society open means guidance has to be nuanced and tailored more.
Devolution has meant each part of the UK is free to come up with its own versions of what should be done.
On top of that, there are the extra restrictions imposed on local areas with high rates of infection.
It is understandable that these are tailored to local circumstances and therefore vary from place to place.
But the more complicated and intricate the rules become, the more chance the public simply switches off.
Advisers have already warned ministers publicly and privately that this is becoming a real risk alongside the problems of actually enforcing the rules in the first place.
But, as with so much with the pandemic, the problem is easy to identify – the solution less so.
Hospitality business owners in the North East said the ban on households meeting indoors would damage an industry already in "survival mode".
Ollie Vaulkard, who runs bars and restaurants in Tyneside and Northumberland, said he decided to shut all his venues after the new restrictions were announced.
"We feel we would be losing money by opening our doors every day," he said.
Newcastle Council leader Nick Forbes told the BBC that the messaging over the new restrictions had been "shambolically incompetent".
"Frankly, it sends out the message that they just don't know what they're doing, they're making it up as they go along," he said. "We've had 24 hours of chaos, of confusion that was entirely avoidable."
Mr Forbes said he still had not seen a final list of the regulations and the affected premises.
He said he was telling people affected in the North East "let's just get on" and "ignore the mess the PM's made of this".
Gateshead Council leader Martin Gannon said the rules were "necessary" but the local authority had been "inundated" by people asking for details after the "chaotic" announcement.
The prime minister is due to hold a press conference on Wednesday afternoon to update the public on the coronavirus crisis, but Downing Street said it was not intended to give a "specific set of new announcements".
Mr Johnson is expected to be joined by England's chief medical officer Prof Chris Whitty and chief scientific adviser Sir Patrick Vallance.