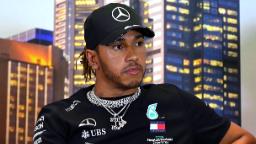 While the scenes have been criticized by members of the UK government — Home Secretary Priti Patel told Sky News that the incident was "utterly disgraceful" — six-time world champion Hamilton wrote in an Instagram story that "our country honored a man who sold African slaves."
His statue had stood in the city since 1895, but its presence had become increasingly controversial.
"All statues of racist men who made money from selling a human being should be torn down! Which one is next?" said the British F1 star, who has frequently spoken out eloquently and passionately on the issue of racial injustice, particularly since the death of George Floyd.
In a post later on Monday, Hamilton reiterated his support for the activists and said the statue should be replaced with a memorial for "all those that lost their lives."
"If those people hadn't taken down that statue, honoring a racist slave trader, it would never have been removed," he wrote.
"That mans [sic] statue should stay in the river just like the 20 thousand African souls who died on the journey here and thrown into the sea, with no burial or memorial. He stole them from their families, country and he must not be celebrated!"
'I challenge government'
In another post to his Instagram story, the 35-year-old challenged "government officials worldwide to make these changes and implement the peaceful removal of these racist symbols."
Hamilton also used his platform to criticize the UK government's response to Covid-19, whilst encouraging those protesting to follow safety advice to prevent further spread.
New rules now require people arriving into the UK to self isolate for two weeks.
"You should have closed the boarders [sic] months ago," he wrote, saying he was "appalled" by the way the pandemic has been handled.
"How you can let people fly in from countries without being tested is baffling. You could have saved thousands of lives. We need better leaders!"
Across the world, protesters packed streets for the second consecutive weekend to commemorate Floyd's death and call for the end of racial injustice.
Hamilton has consistently used his platform to support the peaceful protests and has urged his fellow drivers to do the same.
The 2020 Formula One season has been temporarily postponed amid the pandemic but is scheduled to restart in Austria on July 5.