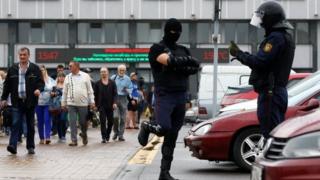 Belarusian President Alexander Lukashenko has stepped up efforts to reassert his control after 10 days of street protests and strikes triggered by disputed elections.
The official result gave him 80% of the vote but the opposition has denounced the poll as fraudulent.
Mr Lukashenko says he has given orders to end the unrest in the capital Minsk.
The move signalled an escalation just as European Union leaders held a virtual emergency summit on Belarus.
'Neither free nor fair'
The German Chancellor, Angela Merkel, said the EU did not recognise the result of the elections: "They were not free and they were not fair".
Mrs Merkel added that the EU leaders condemned "the brutal violence against demonstrators as well as the imprisonment and use of violence against thousands of Belarusians" which followed in the wake of the disputed election.
Thousands of protesters have been arrested amid deadly clashes with police.
European Commission President Ursula von der Leyen said that "the people of Belarus took peacefully to the streets, and the authorities answered with violence and this cannot be accepted".
She said that the EU would "sanction those responsible for violence, repression and falsification of the results of the election".
Both Mrs Merkel and Mrs von der Leyen stressed the need for the opening of a dialogue between the authorities and the opposition in Belarus.
What did Mr Lukashenko say?
Mr Lukashenko, who has led Belarus since 1994, said he had ordered police to quell protests in Minsk. "There should no longer be any disorder in Minsk of any kind," official news agency Belta reported him as saying during a meeting of his security council.
"People are tired. People demand peace and quiet," he added. He said he had ordered border controls to be tightened to prevent an influx of "fighters and arms".
He also warned that workers at state media who had gone on strike in protest at the election and the subsequent crackdown on protests that they would not get their jobs back. Russian replacements have reportedly been brought in. Mr Lukashenko also accused those picketing outside factories of harassing workers.
He had earlier accused the opposition of "an attempt to seize power".
The BBC's Jonah Fisher in Minsk said there had already been some signs this morning of a change in tactics from the Belarusian authorities in Minsk.
Our correspondent said that a checkpoint had appeared on the road leading to the state TV building with police checking the identity of anyone walking to the building. Strikes at factories around Minsk have also been obstructed by police.
Why the escalation?
Mr Lukashenko's remarks came shortly after the exiled leader of the opposition, Svetlana Tikhanovskaya, had urged EU leaders to reject the election.
The 37-year-old, who left for Lithuania after being detained for hours following the vote, released a video statement on Wednesday.
She said President Alexander Lukashenko had "lost all legitimacy in the eyes of our nation and the world" and urged the EU to back what she called the "awakening of Belarus".
She said: "People who went out to defend their vote in the streets of their cities all across Belarus were brutally beaten, imprisoned and tortured by the regime desperately clinging on to power. This is taking place right now in the middle of Europe."
Ms Tikhanovskaya has formed a "co-ordination council" with plans for "new, fair and democratic presidential elections with international supervision".
What is the EU's stance?
Following their virtual summit, European Union leaders said they would impose sanctions on those involved in electoral fraud and what they described as the shocking and unacceptable repression of peaceful protests.
"We stand firmly behind the right of Belarusian people to determine their own fate, and the EU will impose shortly sanctions on a substantial number of individuals responsible for violence, repression and election fraud," EU Council chief Charles Michel said.
German Chancellor Merkel said EU leaders were calling on Mr Lukashenko's government "to cease all violence" and for all political prisoners to be released unconditionally.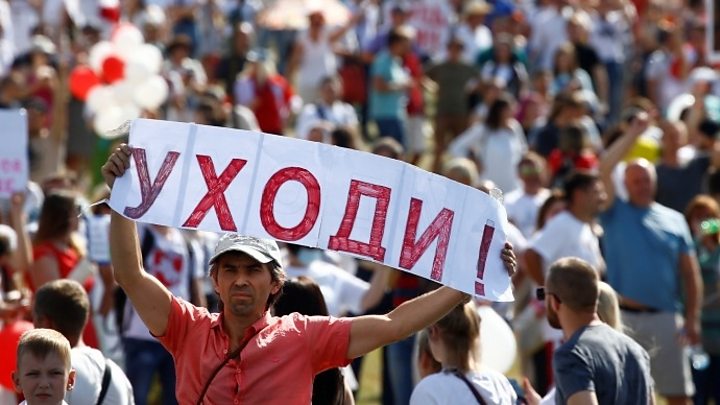 In a reference to Mr Lukashenko's ally, Russia, Mrs Merkel said that there could not be any "external intervention".
On Saturday, Mr Lukashenko had said that Russian President Vladimir Putin had promised to provide assistance in the event of any external military threat. But on Wednesday, Kremlin spokesman Dmitry Peskov said that there was no need for Russia to help Belarus militarily or otherwise at present.
Mrs Merkel said that "we've made it clear that military intervention by Russia would make the situation far more complicated".
More about the protests in Belarus