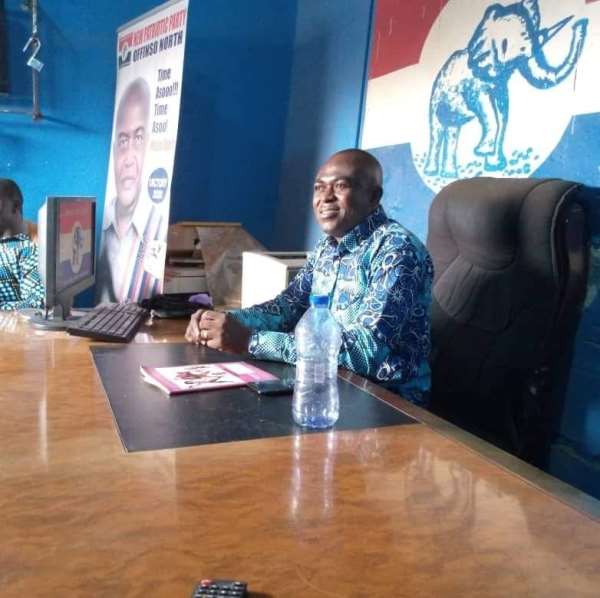 Listen to article
Constituency Secretary for the ruling New Patriotic Party (NPP) in Offinso North Hon. James Baffoe Danso has charged Muslims in the country to use the occasion of Ramadan fasting to seek for abundance, unity and cohesion for Ghana as they embark on a 30-day journey of fasting and prayers in fulfillment of religious obligation
The NPP scribe believes the spiritual exercise that kicked started on Tuesday 13th April 2020 among Muslims across the globe holds the key to mercy and granting of requests of the Supreme Being as believed and taught by the muslims and scholars, hence his appeal.
Hon. James Baffoe Danso Made these expressions when he took the time out to wish Muslims in Offinso North a successful journey on the Cruz FM Kokrokoo morning show annex, asking colleague non-muslims to help provide enabling environment for the fasting neighbours to experience a peaceful exercise whilst remembering the nation at large in their prayers for prosperity and enhancement of peace and security.
He noticed the cordiality and brotherhood relationship between muslims and Christians as well as believers of other faiths in the district and Ghana as a whole and believes it was necessary for all to rally behind the muslims in this period to seek the face of God on behalf of the country. "We wish them good health, good luck, good strength and urge them to remember Offinso North and Ghana thrive from grace to grace".
Mr. James Baffoe Danso who is also secretary to the Ashanti regional association of Secretaries for the NPP applauded the president His Excellency Nana Addo Dankwah Akufo-Addo for appointing for deputy education minister Dr. Yaw Osei Adutwum as the substantive minister for the sector, saying the president has made a perfect choice.
This is after the association presented a citation of honour to the new education minister as congratulation on the appointment. The group according to Mr. James Baffoe Danso expressed confidence in Mr. Adutwum due to his enormous contribution to the education sector in diverse ways and his credentials as a Phd holder. He said the minister has involvement in many educational reforms and interventions in our educational drive and hopes he can succeed in that area.
"He has helped us a lot as our patron, and in Ghana education now, you can't talk of our gains in this administration as far as education is concerned without mentioning Dr. Adutwum under Hon. Opoku Prempeh. Talk of the implementation of free SHS and all the good things in our education sector now, he has played major roles in many interventions" Mr. James Baffoe Danso NPP secretary for Offinso North constituency stated.
Cruz Newsroom