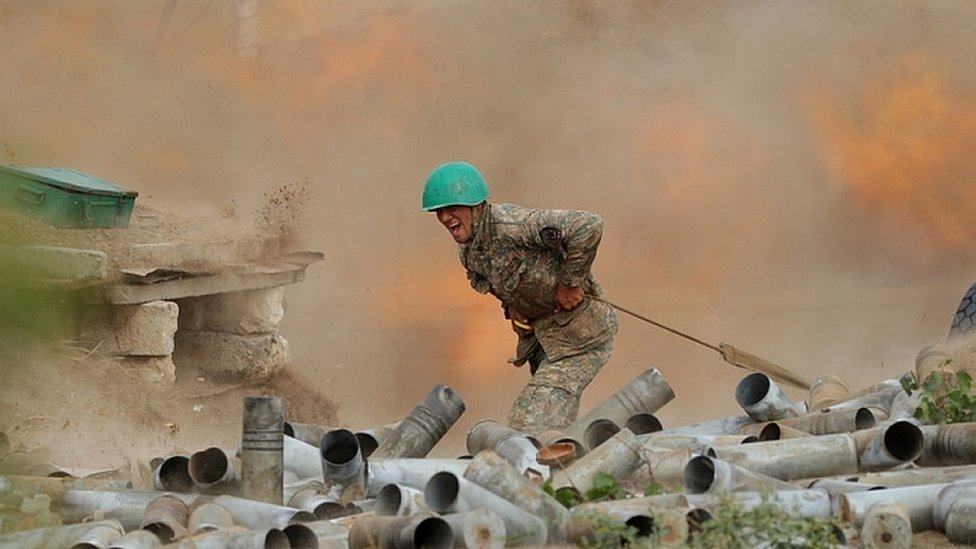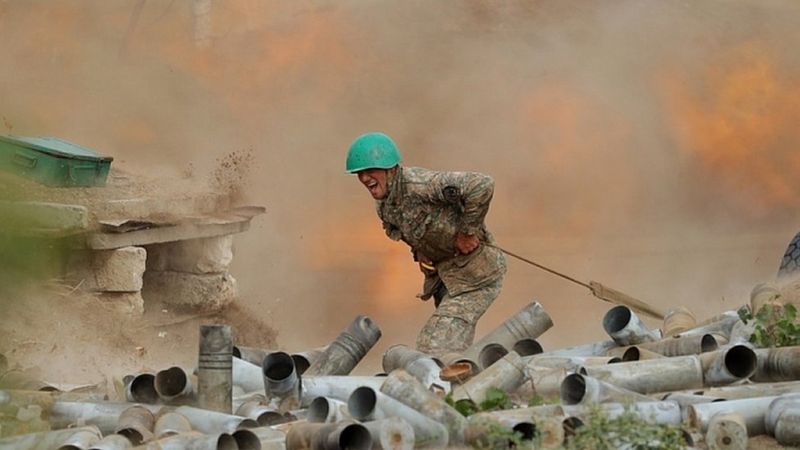 Azerbaijani and Armenian forces have defied calls for a truce in a disputed region of the southern Caucasus, where fighting has escalated in recent days.
On Thursday, Russia and France called for a ceasefire in the Nagorno-Karabakh region amid the worst flare-up in violence there in decades.
But heavy shelling persisted and explosions were reported in the region's main city overnight.
Officially part of Azerbaijan, the area is governed by ethnic Armenians.
The two former Soviet republics fought a war in 1988-94 over the territory. Although Armenia backs the self-declared republic it has never officially recognised it.
It is unclear what caused the renewed fighting, which broke out on Sunday and is the heaviest since the 1994 ceasefire.
Dozens of people have been killed with hundreds wounded, and there are growing fears international powers could be dragged into the conflict.
What's the latest?
French President Emmanuel Macron and Russian President Vladimir Putin spoke on Thursday and discussed the need for urgent de-escalation in the region.
"[They] agreed on the need for a joint effort to reach a ceasefire," President Macron's office said in a statement shortly after the telephone call.
"[We] called on the warring sides to halt fire completely and as soon as possible, de-escalate tensions and show maximum restraint," a statement from the Kremlin said.
Russia has also offered to host the foreign ministers of Armenia and Azerbaijan for talks.
Russia is part of a military alliance with Armenia and has a military base in the country. However, it also has close ties to the government of Azerbaijan.
After Mr Macron and Mr Putin held talks, the Kremlin issued a statement saying they had discussed future steps that the Minsk Group of the Organization for Security and Co-operation in Europe (OSCE) could take to help resolve the conflict.
The Minsk Group was set up in 1992 and is chaired by France, Russia and the US.
Both leaders expressed a "readiness" to see a statement made on behalf of the group that would call for an "immediate" end to the fighting and the initiation of peace talks.
Mr Macron's office also expressed "concern" over reports that Syrian mercenaries had been transported to Azerbaijan by Turkish security companies.
One fighter told BBC Arabic earlier this week that he was recruited in northern Syria and sent via Turkey to fight in the conflict. Abdullah – not his real name – said he was sent to Nagorno-Karabakh "wearing Azerbaijani uniforms" soon after the fighting broke out.
But Turkey has disputed that claim, and an adviser to Turkish President Recep Tayyip Erdogan dismissed the report as "completely unfounded". Azerbaijan's ambassador to the United States has also denied reports of Turkish involvement.
The Syrian Observatory for Human Rights reports that about 900 Syrian mercenaries have been transported to Azerbaijan by Turkish security companies. But they add that Armenian-born fighters in Syria have also been transported to Armenia to join the fight.
Escalation risks a wider regional war
Analysis by Laurence Broers, South Caucasus expert at Chatham House
Previous escalations between Armenian and Azerbaijani forces have been contained after a few days. The intensity of the current fighting indicates that this may not be possible this time.
Populated areas within the contested territory of Nagorno-Karabakh have been hit by missile strikes and bombardments for the first time since the 1990s. Civilian targets in Armenia and in Azerbaijan have also been hit.
Both sides appear to be digging in for a longer conflict.
Azerbaijan has rejected renewed negotiations with Armenia, and compared with previous escalations it has a greater degree of Turkish support to count on.
The danger here is that a longer, protracted, conflict will see increased involvement by outside powers and risk a wider regional war.
What's happening on the ground?
Heavy shelling continued into Thursday, and both sides claimed to have inflicted damage.
Azerbaijan's defence ministry said it had carried out "crushing artillery strikes against Armenian forces' positions" throughout the night.
Meanwhile, officials in Nagorno-Karabakh said the situation there was "tense" and fire had been exchanged.
"The enemy attempted to regroup its troops, but Armenian forces suppressed all such attempts," it said in a statement, according to the AFP news agency.
Two French journalists for the Le Monde newspaper were also injured during shelling in the nearby Armenian town of Martuni.
Azerbaijan published video of what it said was the destruction of two "enemy" tanks and said an Armenian battalion had fled the area around the village of Tonashen.
Armenian media said three civilians had been killed in an Azerbaijani air attack on the town of Martakert on Wednesday. State news agency Armenpress said seven civilians and 80 service personnel had been killed since the fighting began.
Armenia's defence ministry also released a picture of an Armenian SU-25 jet it said had been shot down by a Turkish F-16 on Tuesday. Turkey, a staunch ally of Azerbaijan, has rejected the allegation as "cheap propaganda".
Nagorno-Karabakh – key facts
A mountainous region of about 4,400 sq km (1,700 sq miles)
Traditionally inhabited by Christian Armenians and Muslim Turks
In Soviet times, it became an autonomous region within the republic of Azerbaijan
Internationally recognised as part of Azerbaijan, but majority of population is ethnic Armenian
Self-proclaimed authorities are not recognised by any UN member, including Armenia
An estimated one million people displaced by war in 1988-94, and about 30,000 killed
Separatist forces captured some extra territory around the enclave in Azerbaijan
Stalemate has largely prevailed since a 1994 ceasefire
Turkey openly supports Azerbaijan
Russia has a military base in Armenia