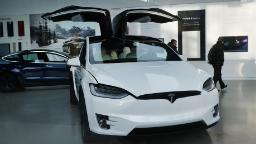 Here's what you need to know if your shares are being split in two (or three, or four, or five).
A stock split does exactly what it sounds like: One share gets split up into multiple shares, with no change to the total value of investors' holdings. They are simply are broken down into more individual units.
So, who benefits from a stock split?
Lowering a company's share price can put its stock within the reach of smaller, individual investors. That's good for the company's liquidity and creates more demand for its stock.
The price change will be more dramatic at Tesla, whose stock was trading at more than $1,500 a share on Wednesday. Its 5-for-1 split, also set for August 31, will bring an individual share into the $300 range.
That's still not exactly cheap, but it's already been a boon to both companies, whose share values have risen even further since they announced their moves.